Region 5 and Region 1 Take the Team Dressage Gold Medals at the 2011 Adequan FEI North American Junior/ Young Rider Championships presented by Gotham North
For Immediate Release
Thursday, July 28, 2011
Source: USEF
Lexington, KY - Temperatures soared, but dressage competitors managed to keep their cool as the 2011 Adequan/FEI North American Junior & Young Rider Championships presented by Gotham North kicked off today at the Kentucky Horse Park.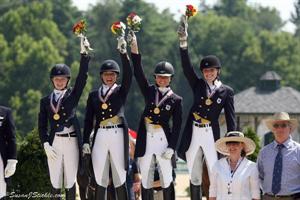 Region 5 claimed the Gold medal in the Young Rider competition. Photo by SusanJStickle.com.
This is the third year the championships have been held at the Kentucky venue, which was the site of the 2010 Alltech/FEI World Equestrian Games last fall.
The day began with Junior and Young Rider dressage competitors vying side-by-side in the USDF/Platinum Performance Dressage Championship Team tests and ended with the pomp and pageantry of the official opening ceremonies.
Competitors started early in the Young Rider Team dressage event, but late in the day when the dust cleared from the center line it was U.S. Region 5 standing on the Gold-medal podium for the second year in a row.
Brandi Roenick, aboard Pretty Lady, Madeleine Birch on Uoeri, Catherine Chamberline on Verdicci, and Aylin Corapcioglu aboard Ruhmann captured the top spot with a combined Team score of 198.104.
"It's just great to be a double Gold medalist!" gushed Birch, 20, who was part of the 2010 Gold-medal-winning Young Rider Team, "especially coming back here with my own horse," she added.
Chamberlain, a Silver medalist in last year's Individual Young Rider competition, echoed the sentiments.
"It's great to come back here. I've had Verdicci for about four years now, and we've grown up together. I also think my teammates did such a great job and I'm really happy to be here with them," said Chamberlain.
Roenick, meanwhile, earned not only the Gold medal, but also the highest score of the day, a 69.289. Still, she was quick to credit her teammates for the win. "It's an awesome opportunity to ride with these girls and really get to know them," noted the 16-year-old Arizona native.
The Silver medal went to the Young Rider Team from the combined Canadian provinces British Columbia and Quebec City (BC/QC). Mathilde Blaise aboard Michaelangelo, Anne Mylai Messier and Marzipan, Esmee Ingham with Norseman, and Emily Fownes on Frapuccino finished with score of 197.027, only slightly more than a point behind the leaders.
"I think this year the Canadian spirit has been especially high," said Ingham, who won a Team Gold as a Junior last year. "Since British Columbia is on the West Coast and Quebec City is so far east, for us to come together as a team having never met and medal is really incredible."
Lastly, the Bronze went to U.S. Region 8 with members Isabelle Leibler aboard Watson 108, Marlee O' Neill on Leonardo, Alexandra Potasky with Chackomo M, and Madeleine Van Vleet with Top earning a third-place score of 196.132.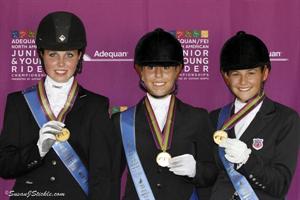 Region 1 earned the Team Junior Dressage medal. Photo by SusanJStickle.com.

In the Junior event, it was the U.S. Region 1 Team that reigned supreme. Kyra Endreson aboard Pik L, Julia Burtt with Aaron VI, and Dominique Cassavetis racked up an impressive team score of 199. 189 despite having only three members and no low score to drop.

It's been so fun to be here," said Enderson, of her first experience at Young Riders. "It was such a great opportunity to be on such a great team."

Burtt, the team veteran having competed at the championships last year, found her second time to be the charm. "To come back and win a Gold medal has been truly amazing."

In the Silver position was U.S. Region 5. Teammates Taylor Lindsten and Raoul, Talia Hershaft on Westfalica, Brook Santiangelo with Daylight, and Devon Wycoff aboard Power Play medaled with a combined score of 195.865.

"I had kind of given up on my dream to even qualify," said first-time Young Rider Wycoff. "But my parents said this was my last year as a Junior, and they wanted to make it happen. We went to California to try Player ('He's a ladies man,' she notes), and I got him in March and we started qualifying ever since."

The Bronze went to U.S. Region 8. Teammates Katelyn Kok aboard Morgan Enshoj, Rachel Chowanec with Embrujado, Jannike Gray on Maestro, and Ciara Cummisky on Queen's Delilah earned a total score of 194.297.

The impressive procession of all of this year's Junior and Young Riders were the highlight of the opening ceremonies. Teams and riders were introduced in Olympic fashion while equestrian dignitaries, including USEF President David O'Connor, delivered welcoming words. The Vaulting team, who joins NAJYRC for the first time this year in the non-championship category, ended the event with a demonstration of its unique harmony between horse and rider.

A prestigious five-day, international competition, the NAJYRC showcases North America's finest 14-21 year-old riders in dressage, eventing, jumping, reining, and endurance. Competition continues tomorrow with the Individual Junior and Young Rider dressage competition and the Team Final in reining.

For more information, please visit www.youngriders.org.

Founded in 1973, the United States Dressage Federation is a nonprofit membership organization dedicated to education, recognition of achievement, and promotion of dressage. For more information about USDF membership or programs, visit www.usdf.org, email usdressage@usdf.org, or call (859) 971-2277.