Dawson and Frederick Score National Titles at USEF Dressage Seat Medal Finals
For Immediate Release
Monday, August 19, 2013
Source: USEF
Lexington, KY -Over the weekend, the Stanley Park Fairgrounds in Estes Park, Colorado, played host to 25 of the top junior dressage riders for the 2013 USEF Dressage Seat Medal Finals. Held in conjunction with the Paragon Dressage CDI, the annual championship hosted elite equitation competition in 13 & Under and 14-18 age divisions. In the 13 & Under division, Alexander Dawson topped the field of 13 to claim championship honors, while in 14-18 competition Mickayla Frederick earned her first National Title. All entries rode in front of the expert panel of Janine Malone, Joan Darnell,and Jane Weatherwax.
13 & Under
Dawson (Sturtevant, WI) traveled to Estes Park in hopes of capturing a National Title with his own Kynynmount Shenanigans. The 13-year-old excelled throughout the rail work and pattern, which called for sitting trot, to score an impressive 88%.
"It's been a long goal of mine and I'm really happy to be here. All the people here are super great and really good riders, so I'm really honored," said Dawson of his experience over the weekend.
From the moment that he entered the ring on Saturday, everything played out perfectly for Dawson and the 10-year-old Connemara Cross pony.
"I felt that it went really good, he put his best effort forward and that's all we really could."
Earning Reserve Championship honors with a score of 82% were Mackenzie Perez (Fort Worth, TX) and Lori Mosites' 13-year-old Trakehner mare Eli Sheva.
Third place honors went to Asia Ondaatje Rupert (Greenwich, CT) and Julie Burt's 14-year-old Hanoverian mare Genuine Gem with a score of 77%.
14-18 Division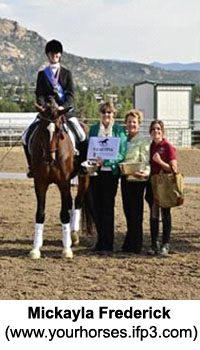 In the 14-18 age group, Fredericks (Johnston, IA) scored a resounding victory after scoring 85% with Robert Susa's and her own 10-year-old Hanoverian gelding Wrainer Q.
Vanessa Barnes (Atlanta, GA) cruised to Reserve Champion honors after scoring 79% with Beth Villery's 20-year-old Holsteiner gelding Legende.
Earning third place honors were Sophie Nasrullah (Louisville, CO) and her own 11-year-old Oldenburg gelding Deveryk with a score of 78%.
To find scores from the Paragon Dressage CDI visit; http://2whitefeet.com/Scoring/Home
To find out more information about the USEF Dressage Seat Medal Finals, click
here
.
Founded in 1973, the United States Dressage Federation is a nonprofit membership organization dedicated to education, recognition of achievement, and promotion of dressage. For more information about USDF membership or programs, visit www.usdf.org, email usdressage@usdf.org, or call (859) 971-2277.