Riders Dream Big as Regional Qualifying Gets Underway for Inaugural US Dressage Finals Presented By Adequan®
For Immediate Release
Wednesday, September 18, 2013
Source: Yellow Horse Marketing for the US Dressage Finals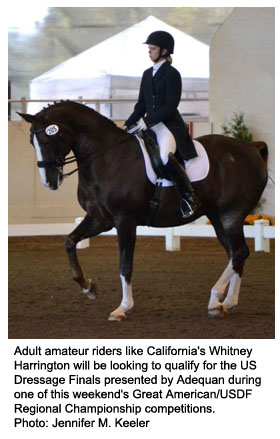 From New York to California, excitement is sweeping the nation as the first round of Great American/USDF Regional Championship dressage competitions gets underway this weekend in five regions across the country.
But this year it's not just blue ribbons on the line:
for the very first time, horses and riders competing in the Regional Championships will have an opportunity to qualify for the
US Dressage Finals presented by Adequan
®
, a national head-to-head competition showcasing adult amateur and open riders from Training Level to Grand Prix.
The inaugural US Dressage Finals presented by Adequan® will be held November 7 - 10, 2013 at the picturesque Kentucky Horse Park in Lexington, Kentucky, home of the 2010 Alltech/FEI World Equestrian Games. For the first time in history, riders from across the country at all levels of performance will be invited to compete over the same hallowed ground where international champions have been crowned. "The Kentucky Horse Park is one of the finest equestrian facilities in the world," notes George Williams, President of the United States Dressage Federation (USDF). "And I couldn't be more thrilled that our mission to provide a national spotlight for riders at all levels, especially adult amateurs, will now be realized there. This will be their moment to shine."
So far, more than 1,200 declarations have been received from riders seeking to qualify for what may be the chance of a lifetime to compete on the national stage and win fantastic prizes, bragging rights, and more than $50,000 in prize money. This group of hopeful competitors includes Whitney Harrington of Agoura Hills, CA, who has enjoyed winning regional championship titles in the adult amateur ranks with her mount, Laredo 183. In addition, she has watched and supported her daughter Kalynn as she works to qualify for FEI junior and young rider championship programs. But now it's Harrington's turn to pursue national-level goals. "I decided to declare because I thought it would be exciting to be able to ride in a national finals at a huge venue against the best riders in my division, not just from my region," said Harrington. "As an adult amateur, it is a wonderful way to be exposed to top competitors in our division from all across the country."
As a Grand Prix dressage rider and a USDF Bronze, Silver, and Gold Medalist, Heather Mason of Tewksbury, NJ is no stranger to elite championship competition. In addition to finding success at the High Performance level, in 2011 she was named as an alternate for the Pan American Games. But Mason is so excited to try for the inaugural US Dressage Finals and a chance to trot down centerline in the impressive, climate-controlled Alltech Arena, she's seeking to qualify six horses in various levels from Training to Grand Prix. "I rode in the then-American Horse Shows Association (AHSA) 'national championships' in 1984 in Kansas City," Mason said. "There I won the First Level junior/young rider division, and I've been waiting for them to come back ever since! I really think a head-to-head competition not only for professional riders but also for adult amateurs is a great idea, and I really hope to make it."
Riders in USDF Regions 2, 5, 6, 7, and 8 will compete this weekend to earn top marks and be eligible for a possible invitation to the Finals, followed by Regions 3 and 4 over the weekend of October 11 - 13 and concluding with Regions 1 and 9 on October 17 - 20. For riders who have submitted a declaration to compete at the Finals, their next step on the road to Lexington will be the nomination phase, as competitors who earn required scores and/or placings at their respective regional championships will have 48 hours to file electronic nominations with USDF. From these nominations, final invitations for the US Dressage Finals will be issued, with entries closing October 24.
To learn more about the US Dressage Finals presented by Adequan®, download competition information, review lists of declared riders and horses from each region, and sign up to receive news and updates, visit the official event website at www.usdressagefinals.com.
Founded in 1973, the United States Dressage Federation is a nonprofit membership organization dedicated to education, recognition of achievement, and promotion of dressage. For more information about USDF membership or programs, visit www.usdf.org, email usdressage@usdf.org, or call (859) 971-2277.