The Excitement Begins as Regional Qualifying Gets Underway for the 2015 US Dressage Finals Presented By Adequan®
For Immediate Release
Monday, September 14, 2015
Source: Yellow Horse Marketing for the US Dressage Finals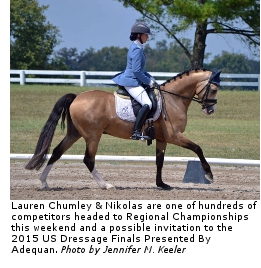 September marks the traditional end of summer but it also rings in the start of the fall championship season as the first round of Great American Insurance Group/United States Dressage Federation (USDF) Regional Championships get underway across the country, with almost 950 competitors preparing to ride down the centerline this weekend in USDF Regions 2 (Michigan), 7 (California), and 8 (New York). While plenty of ribbons and awards will be on the line, many riders have an even bigger goal in mind: to qualify for the US Dressage Finals presented by Adequan, which will once again return to the Kentucky Horse Park, November 5-8, 2015.
One of those riders hoping to punch a ticket to Lexington is Lauren Chumley of Frenchtown, N.J. who is headed to the upcoming Great American Insurance Group/USDF Region 8 Championships in Saugerties, N.Y. Chumley traveled 13 hours to last year's Finals with two horses in tow, and now she's seeking to return to the Bluegrass and once again participate in this unique national head-to-head competition which offers a wealth of championship titles and over $50,000 in prize money, all while showcasing adult amateur and open riders from across the country in Training Level to Grand Prix. This year, new perpetual trophies will be presented as well as a return of the popular High Score Breed Awards, offered at national and FEI levels for both Open and Adult Amateur competitors. To date, 33 breed organizations have elected to participate in this special High Score Breed Award program (see a complete list HERE).
"I think having the national Finals is a great concept for bringing everyone together," Chumley explained. "To see people from across the country who are the best that each region has to offer is just great to be a part of, and I especially enjoy seeing old friends from other regions that I wouldn't otherwise get to see. I also think having the opportunity to show in the Alltech Arena is super cool - it's such a great environment.
"I know it's a challenge for riders from some of the regions who have to come so far, but it's worth it in so many ways," she continued. "Is it a long drive? Yes. Does it take a lot of planning? Yes. Can it be cold? Yes. Is it time and money well spent? Absolutely."
Before heading off to Saugerties, Chumley made sure to submit online declarations for the five horses she'll be hoping to qualify for the Finals, as did her clients and friends. As a reminder for competitors, a horse/rider combination must declare their intention to participate in the US Dressage Finals by completing the Declaration of Intent form by midnight on the day prior to the first day of their Regional Championship competition (including any open class day before the start of championship classes). There is no fee to declare, but horse/rider combinations must declare at the level(s) and eligible division(s) they intend to compete in at the US Dressage Finals. For instance, the deadline for participants at Regional Championships 2, 7 and 8 is September 16th at midnight (defined as 12:00 am [midnight] in the time zone where the Regional Championship is held).
"I've got nothing to lose so I declared all of my horses and if they get the scores, I'll probably bring them all. Why not? It's a great time and I'd love to come back and bring my clients and owners to experience it," she said. "I'm especially excited about Nikolas, the four-year-old German Riding Pony I've competed this year for Melissa Dowling. He's already proven himself in the ring despite his young age, and I just think it would be so cool to bring a pony to the Finals to compete in the open division. I think he can be competitive, and we'll see what he can do this week at Regionals. I also have an Adult Amateur client riding Prix St. Georges and she has declared herself to go, as well as two good friends who also would like to attend, so if we make it we'll all caravan out together."
After this weekend's initial round of Great American Insurance Group/USDF Regional Championships, next on the calendar will be competition in Region 6 on September 24-27, followed by Regions 3, 4 and 9 on October 8-11, and Regions 1 and 5 closing out the qualifying calendar on October 15-18. With the first three regions looking to be off to a strong start, USDF President George Williams believes the excitement for the 2015 Finals will once again sweep across the country.
"Now in the third year, we're looking forward to the Finals getting better and better each time," noted Williams. "I'm so proud that this idea finally came to fruition and has exceeded everyone's expectations, offering our members this unique competitive opportunity and what for many may be a once-in-a-lifetime event. I wish good luck to all USDF members competing at the upcoming Regional Championships and remember to submit those declarations, because whether you're a Finals veteran or looking to come for the first time, it is an incredibly special experience."
To learn more about the US Dressage Finals presented by Adequan®, download competition information, declare and nominate for the Finals, and sign up to receive news and updates, visit the official event website at www.usdressagefinals.com.
Founded in 1973, the United States Dressage Federation is a nonprofit membership organization dedicated to education, recognition of achievement, and promotion of dressage. For more information about USDF membership or programs, visit www.usdf.org, email usdressage@usdf.org, or call (859) 971-2277.