USDF Congratulates 2016 USDF/IDA National Quiz Challenge Winners
For Immediate Release
Thursday, May 12, 2016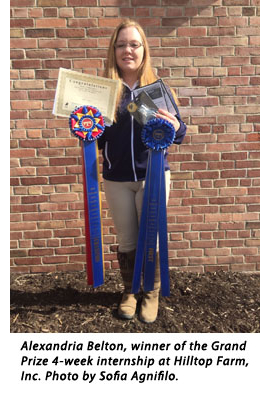 Lexington, KY (May 12, 2016) - The United States Dressage Federation (USDF) would like to congratulate Alexandria Belton, overall winner of the 2016 USDF/IDA National Quiz Challenge held on April 22, 2016 at the Intercollegiate Dressage Association (IDA) Nationals. Alexandria, a member of the class of 2017 at Cazenovia College, was entered in the First Level division. As the grand prize winner, she will receive a four-week internship at Hilltop Farm, Inc. in Colora, MD.
Alexandria shared her enthusiasm for the challenge and the internship in saying, "Participating in the USDF/IDA Quiz Challenge at IDA Nationals gave me the chance to test my knowledge of dressage and what I have learned while at Cazenovia College. I had fun studying with the other members of my team, who also qualified. I'm very excited that Hilltop Farm has offered me this four week internship opportunity to learn about the operations of their business."
USDF would also like to congratulate the winners in each of the other divisions of competition: Kristen Kelley, of Averett University, was the winner of the Introductory Level, Catherine Meyer, of Cazenovia College, was the winner of the Lower Training Level, and Hannah Walter, of Averett University, was the winner of the Upper Training Level.
This competition, open to all IDA members, consisted of three rounds of competition. The first two rounds took place online through USDF's eTRAK, focusing on classical dressage theory related to the rider's seat, position, and aids, classical training and lungeing, as well as dressage competition rules. The ten highest scoring individuals from the first round, in each of the four categories (Introductory, Lower Training, Upper Training and First Level) moved on to compete in the second round; the five highest scoring individuals in each of the four categories from the second round advanced to the finals at the 2016 IDA Nationals, held at Centenary Riding Center at Centenary College in Hackettstown, NJ.
For more information on the USDF/IDA National Quiz Challenge, please visit the IDA website at www.teamdressage.com, the USDF website at www.usdf.org, or contact the USDF Youth Programs Liaison at youth@usdf.org.
Founded in 1973, the United States Dressage Federation is a nonprofit membership organization dedicated to education, recognition of achievement, and promotion of dressage. For more information about USDF membership or programs, visit www.usdf.org, email usdressage@usdf.org, or call (859) 971-2277.