Records Show 17% Increase in Nominations to Date for This Year's US Dressage Finals Presented By Adequan®
For Immediate Release
Thursday, October 13, 2016
Source: Yellow Horse Marketing for the US Dressage Finals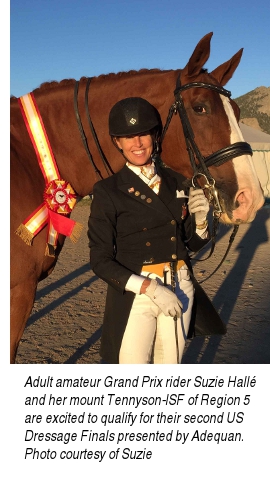 As Great American Insurance Group/United States Dressage Federation (USDF) Regional Championships are wrapping up across the country, excitement is growing for the fourth annual US Dressage Finals presented by Adequan®, being held November 10-13, 2016 in Lexington, KY. And the numbers prove just how eager people are to compete for a multitude of national dressage titles: the first six regions for which nominations have closed and been processed indicate an increase of just over 17% in nominations, with the biggest percentage increase being in Region 6, whose competitors travel the farthest to attend the Finals. Other regions also showing impressive increases in nominations are Regions 1 at 44% and Region 4 with a 33% jump.
Suzie Hallé of Englewood, CO, is one of those enthusiastic competitors. She traveled to the Kentucky Horse Park for her first trip into the Alltech Arena in 2014; and after earning two Reserve Championships at the Grand Prix level in Region 5, she and her Dutch Warmblood gelding Tennyson-ISF have punched their ticket back to the Finals. "When we competed in Finals two years ago, it was our first season at Grand Prix with only six tests under our belts. We were so green – we were at what I call the Training level of Grand Prix," said Hallé. "But it was such a special trip for us. After I had competed, I remember sitting in the VIP area with my father (who turns 90 this year) and we watched the beautiful freestyles together. I said then, 'You know Dad, if I get a chance to come back, I want to ride a freestyle here. Will you and Aline (his wife of 30 years) come watch us?' He said yes!"
Now not only are Hallé's father and his wife flying back to Lexington this November, but her husband will also be joining her at the Finals to share in the experience. "I love the sound system in the Alltech Arena, and I can't wait to hear my music playing. It's soundtracks from action movies interspersed with violin. It is very powerful! I get goosebumps every time I listen to the walk section especially," Hallé explained. "We have more experience at Grand Prix now, and Tenny's in his prime at 16, so my goal is to ride the best two tests we are capable of riding on those two given days. Tenny and I have a special partnership, almost a spiritual connection, developed over almost a decade of being together from Training Level to Grand Prix and I want to give him every opportunity to showcase his wonderful spirit."
With her Finals invitation in order, like so many other competitors Hallé now begins the logistical challenge of arranging safe, affordable transportation for her horse across the country to the rolling hills of the Bluegrass State. Competitors looking for assistance in making transportation arrangements to Kentucky are encouraged to utilize the US Dressage Finals Transportation Resources webpage which includes links to horse transportation vendors, as well as a Horse Transport Share Forum where competitors can connect with others in their areas to organize group transportation. With the fall Thoroughbred sale season occurring in Kentucky at the same time as the Finals a lot of trucks will be hauling over the road, many with empty spots which could be filled with dressage horses, possibly even at a reduced rate. "The tricky part is getting there," Hallé admitted. "So I was happy to see the link on the Finals webpage for the Transportation Resources where competitors like me can connect to share transportation information. The more this forum is used, the more people from across the country and along shipping routes can network with each other. I think it's a great idea, and I sincerely hope that more people like me will post their plans there. Even if they've already made a reservation, when we communicate and work with haulers to fill empty spots on trucks, it can dramatically reduce the transportation costs for everyone!"
On the other side of the country, the Great American/USDF Region 8 Championships in Saugerties, NY, were once again a huge event, and show secretary Debra Reinhardt saw a high level of excitement among riders competing for a chance to attend the Finals. "When I checked people in, over 90% had already declared for the Finals," said Reinhardt, who also makes the annual pilgrimage to Kentucky as the US Dressage Finals Event Coordinator. "Only one person had to use our computer to declare compared to previous years where there were several declaring at the last minute. This tells me that the Finals are on riders' minds and have become a goal for many of them well ahead of Regionals, and I also heard buzz about earning wild card scores for the first time. I attended quite a few of the award ceremonies and heard from many of the riders, 'Kentucky here we come!'" From the opposite coast, Charlotte Jorst of Reno, Nev. topped a field of 10 competitors in the Great American/USDF Region 7 Open Grand Prix Championship in California aboard her Danish gelding Kastel's Akeem Foldager. In April, she represented the U.S. at the Reem Acra/FEI World Cup Dressage Finals, and now Jorst is looking forward to the cross-country trip to Kentucky to represent Region 7 at the Finals for the first time next month. "Why not?" said Jorst. "It would be great to go to the Finals, and I think Akeem would love it!"
Another huge Regional Championship turnout is expected this weekend in Region 3, where 510 competitors will try to earn one of the final group of invitations for Kentucky. From there, all nominated riders from across the country will have until October 27th to submit their official entries and take the last step on the road to this year's Finals (click HERE to learn more about the entry process). And Suzie Hallé is ready. "I personally can't wait to get back to the Finals," she said. "It's such a beautiful venue, and you form friendships from around the country that continue on long after the show is over. It makes our big country feel much smaller with an event like this that brings everyone together. I want to embrace this chance to go again because if you think something might be possible, you have to try your hardest to make it happen. It's a long trip for us, but my horse and I have worked so hard, we are both healthy, sound and happy in our work, so we are going to do our best to make it happen again."
To learn more about the US Dressage Finals presented by Adequan®, download competition information, and sign up to receive news and updates, visit the official event website at www.usdressagefinals.com.
Founded in 1973, the United States Dressage Federation is a nonprofit membership organization dedicated to education, recognition of achievement, and promotion of dressage. For more information about USDF membership or programs, visit www.usdf.org, email usdressage@usdf.org, or call (859) 971-2277.