Sheila Woerth Named 2016 USDF Volunteer of the Year
For Immediate Release
Thursday, November 3, 2016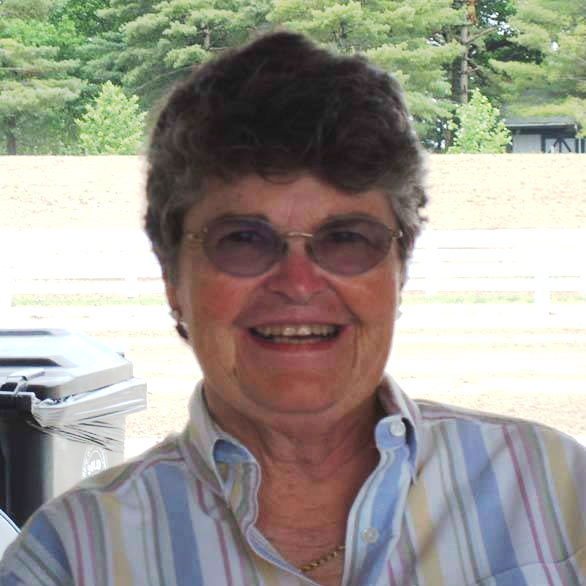 Lexington, KY (November 3, 2016) - The United States Dressage Federation (USDF) is pleased to announce that Sheila Woerth, of Lexington, KY, has been named the 2016 USDF Volunteer of the Year. This award recognizes a USDF member who, through consistent and cumulative volunteer activities, has demonstrated exceptional commitment towards carrying out USDF's mission. As the winner, Sheila will be presented with a perpetual trophy, established by Lisa Gorretta, which is on permanent display in the Roemer Foundation/USDF Hall of Fame. She will also receive a "keeper" trophy and be featured in the yearbook issue of USDF Connection.
As a volunteer, Sheila is the epitome of the ideals behind the USDF's mission of education, recognition of achievement, and promotion of dressage. She has served in a variety of capacities for the Kentucky Dressage Association (KDA) as a dedicated Board member, show chair, as well as being a protector and nurturer of all show volunteers. She spearheaded the fundraising for the renovation of the Kentucky Horse Park Dressage Complex, in conjunction with the KHP Foundation. Sheila is always looking for opportunities to educate and bring new people to the sport. She is an advocate for young rider, adult amateur, and professional scholarships for continued training and learning through KDA. She is a strong supporter of educational clinics, implementing annual training clinics for volunteer scribes, ring stewards, and scorers, and she readily shares her invaluable knowledge and vast experience in running a successful show with anyone who might have an interest. She is also involved in continued assessment to ensure local members are recognized for their dressage achievements through the KDA newsletter and USDF, United States Equestrian Federation (USEF), and KDA annual awards. Sheila has spent countless hours organizing local schooling shows, KDA Spring and Fall shows, and was the show chair for the Great American Insurance Group/USDF Region 2 Dressage Championships in 2014.
Cindy Smith, who nominated Sheila, added, "Sheila Woerth is the 'cog in the wheel' at the Kentucky Dressage Association, spending the majority of her waking hours coordinating efforts for our shows and the ongoing promotion of dressage. Sheila is a masterful networker of people and resources, and knows just how to bring them together for our common cause. Her dedication stems from her basic love of the horse and her genuine interest in riders and horse owners."
For more information about the USDF Volunteer of the Year Award, visit the USDF website at www.usdf.org, or contact the USDF office at voyaward@usdf.org.
Founded in 1973, the United States Dressage Federation is a nonprofit membership organization dedicated to education, recognition of achievement, and promotion of dressage. For more information about USDF membership or programs, visit www.usdf.org, email usdressage@usdf.org, or call (859) 971-2277.