Riders Have the "Best Day of My Life" at the 2016 US Dressage Finals Presented By Adequan®
For Immediate Release
Sunday, November 13, 2016
Source: Yellow Horse Marketing for the US Dressage Finals
Katherine Lewis of Aiken, S.C. had already had a fairy-tale trip to the US Dressage Finals presented by Adequan® after being crowned Friday's Fourth Level Adult Amateur Champion. But when her distinctive freestyle music featuring the American Authors hit "Best Day of My Life" rang out over the loudspeakers in the Alltech Arena in Lexington, her winning week was about to get even better. "What more is there to say for a freestyle when you're here riding in this type of atmosphere on your once-in-a-lifetime horse?" she asked.
That special horse is the 12-year-old Oldenburg gelding Donneur (Donnerschwee out of Akorina by Cordeur), who has reformed his formerly self-destructive ways into cruising to another Finals victory in today's Fourth Level Adult Amateur Freestyle Championship with 73.778% (see Lewis' winning freestyle ride HERE courtesy of US Dressage Finals videographer Richard's Equine Video). "We had to learn to manage him in turnout, because he's jumped out, crashed on pavement, and taken high-speed farm tours. We had to be so vigilant because he kept hurting himself," she explained. "But at the same time we didn't want him to have to be locked up forever. So finally we just held our breath and turned him out in a 12-acre field with a retired show hunter to babysit him. And thankfully it worked."
Lewis also had to figure out how to channel her mount's energy in a positive direction in the electric setting of the Alltech Arena. "It's such an amazing venue and it gives my horse lots of extra lift and presence, but he also can get quite worked up especially during awards," she said. "My incredible trainer Shawna Harding is staying at my house taking care of all my animals so we could be here, and she and my husband figured out a way to Facetime our schooling and warm-ups. Her help has been invaluable to me, and we worked out a plan to use Donneur's lift and brilliance in that ring to our advantage. It's a fine line because he's an overachiever and we want him to feel good about himself, but he still has to listen. Shawna always says, 'don't bore me, wow me,' so that's what I tried to do and it worked!" Lewis' freestyle music also has a family connection. "My daughter and son-in-law are here with me, and they used two of the songs from my freestyle including 'Best Day of My Life' in their wedding at our farm last year," she explained. "It was a little bit of a home job putting this together, but I'm so proud to win with their wedding music." Taking home the Reserve Championship was Anne Chapin of Charlottesville, Va. (Region 1) with her nine-year-old Oldenburg mare Luna Popp (Liberty Gold x Fein Dancer by Feinbrand, bred in the U.S. by Isabel de Szinay) on 68.833%.
Michael Bragdell, Colora, Md. (Region 8) also enjoyed his freestyle as he rode William and Laura Mitchelson's six-year-old Dutch Warmblood gelding Faberge Blue (Contango x Kroniek U by Democraat, bred in Maryland by Marie Emrey) to the winner's circle in the Third Level Open Freestyle with 73.556%. "I'm a big 80's fan so Karen Robinson was excited to put this together for me. It's fun, my horse seems to love the music, and I think it goes really well with his gaits," said Bragdell. "I'm so excited for his owners. He grew up on our farm and he's always been a worker bee – he's a thrill to ride and I love his brain and work ethic. He's the type of horse that if he's not ridden first in the morning then he's a little disappointed in me." Jennifer Roth of Sunbury, Ohio (Region 2) earned Reserve honors with her 11-year-old Hanoverian gelding Reebok (Royal Prince x Andromache by Arrian, bred in Pennsylvania by Diane and Jack Vickery) with 72.889%. "I used music from Game of Thrones, because who doesn't love dark and scary music?" she laughed. "It's my horse's first season back after two years off for a rear suspensory injury, so it means a lot to be here. I'm just so glad to have my horse back."
In the Second Level Open Freestyle, Region 2's Jennifer Conour of Carmel, Ind. rode the nine-year-old American Warmblood mare Emerald (Andre x Opal, bred in Illinois by Indian Hills Stables) to victory for owner Diane Breier with a top score of 72.778%. "The chilly temperatures didn't bother her at all, she's very steady and such a good girl. She was purchased for her owner who asked me to help ride her so I get the pleasure of competing her here. She's so solid in her work, really good with her simple changes which have coefficients, and she seems to like her music," said Conour, who also explained why the music has special meaning for Breier. "Her owner picked out her music because it was her father's favorite music from the movie 'The Sting', so she thinks of her dad every time she hears the freestyle music." Finishing in Reserve with 72.111% was Deirdre Malburg of Belton, Texas (Region 9) with Boldness Be My Friend SLR, a nine-year-old Friesian cross gelding (Gabriel x Savannah SLR by Whitesville) owned by Raelynn Stephens. "He also is a very steady horse and I can always count on the fact that he's going to go in the ring and do his job," Malburg explained. "He's half Friesian, a quarter Thoroughbred, and a quarter Shire and was purchased by his owner for $500. I got him about a year ago and he wasn't the easiest to work with at first, but he had a breakthrough this year and has decided he loves dressage and loves competing. After going through three freestyles we now use tango music because he chose it!"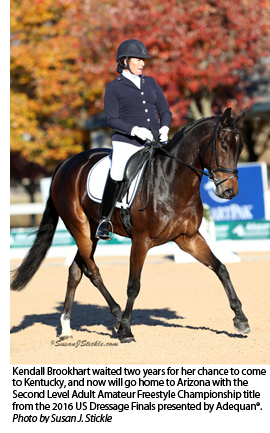 After successfully qualifying in Region 7, Kendall Brookhart decided to bring her nine-year-old Oldenburg mare Rianna (Regazzoni x Desert Princess by Diamont, bred in Arizona by Sharee and Kendall Brookhart) all the way to Kentucky from her home in Cave Creek, Ariz. "I had heard some wonderful things about competing here so we were very excited to come," said Brookhart. "We had planned to bring Rianna in 2014 but she came down with a cough so we couldn't put her on the trailer and had to scratch. So it's been a two-year wait, but now I couldn't be happier to be here." Her patience paid off with a win in the Second Level Adult Amateur Freestyle Championship on the strength of a score of 71.722% for a performance using music from Madonna that Brookhart had originally planned to use with Rianna's dam. "It was so much fun riding in the Alltech today. She was a little on edge and spooked pretty hard in the corner so I had to ride creatively and adjust as I went, but I'm really pleased. She gave me all that she could today." Hometown girl Michelle Morehead of Lexington, Ky. (qualified in Region 3) rode her nine-year-old Oldenburg mare Silhouette (Staccato* x Lafonsa by Hofnar, bred in Virginia by Donald and Yolanda Williamson) to a close second with 71.444%. "Right before we went in the ring, my trainer told me I had to go for it, so we did," she said. "My previous mare had suffered a career-ending injury and I was just devastated. Soon after my trainer found Silhouette who was up for sale, and she said I really needed to look at her. So she kind of fell in my lap, and it's been quite a blessing to say the least."
Region 9's Ashlee Watts and her family had to go the extra mile to make it back to this year's Finals with her eight-year-old Danish Warmblood gelding Hampton (Blue Hors Hotline x Madigan L), but those efforts paid off with a victory in the First Level Adult Amateur Championship with 72.059%. "I am an equine orthopedic surgeon in College Station, Texas, and I almost didn't come due to work commitments," she said. "But the more I thought about it, the more I said, 'I have to go'." So her husband drove the horse to Kentucky while she flew in the day before competition to meet him, which didn't leave much time for preparation. But Watts didn't let that, or an unfortunate off-course error in her test, keep her from victory. "Hampton was more settled today and was perfect in our test. To come here where it's such a showcase with so many great riders and amazing horses, with an atmosphere that is competitive but so pleasant and happy, it's a great way to end the year." Reserve Champion was Lauren Lewis-Gladish of St. John, Ind. (Region 2) who rode her six-year-old Hanoverian mare Sinfonie (Soliman de Hus x Bravour by Belissimo M) to a score 71.961%. "This is my dream horse – I saved money for 15 years to be able to get a horse like her," Lewis-Gladish explained. "I've owned her for two years but she had a foal last April and she'd never been shown prior to being bred, so this is her first season out. Today she settled in and decided to show me what she's capable of doing and tried so hard to please me. It's so amazing that I'm sitting here and we've accomplished so much in such a short time."
Heather McCarthy of Prairie Grove, Ill. (Region 2) has found plenty of success at the Finals in past years, and she once again found the winner's circle as she rode Sandi Chohany's five-year-old Oldenburg gelding Au Revoir (Ampere x Lara by Liberty M) to a score of 73.971% to claim the First Level Open Championship title. "This is a new horse for me – we've only been together since April and this was his first big show season. I rode him a little conservatively yesterday not knowing how he'd handle everything, but today he was just perfect and I could really go for it," she said. "I've attended every single Finals and look forward to it every year. I have an even bigger group with me than ever before, including several first-timers, and we wouldn't miss this for anything." McCarthy just edged out Mike Suchanek of Cambridge, Minn. (Region 4) who rode three horses to top ten finishes in the class, including Reserve honors with the five-year-old Hanoverian mare Duchess L (Damsey x EM De La Rosa by De Niro, bred in the U.S. by owner Leatherdale Farms) with 73.627%. "It's just her first year of showing so I am really proud of her coming all this way," he noted. "She's still growing in strength but her gaits have been really improving."
Amy Swerdlin of Region 3 took the long drive north from Wellington, Fla. as well as the chilly temperatures in stride as she and her homebred six-year-old Oldenburg gelding Quileute CCW (Quaterback x Gluckslady by Gluckspliz) claimed the Third Level Adult Amateur Championship with 67.650%. "He was quite fresh and excited today but he stayed with me, and despite a few bobbles overall I was very happy," she said. "It's even more special because I bred him myself and I was there when he was foaled. There were so many good riders in the class but I think he has a lot of presence and is a bit of a show-off so that helps him do well." Lisa Rush of Dell Rapids, S.D. (Region 4) also traveled a long way to the Finals and was rewarded with Reserve Championship honors with her seven-year-old Westfalen gelding Finestep HW (Florenciano x Merana by Medici) on a score of 67.393%. "My horse was also fresh today, but all in all he did everything I asked him to do," noted Rush, who added that she and her daughter trailered her mount 17 hours to Kentucky in order to participate in the Finals for the first time. "Three years ago I purchased him sight unseen off the internet and imported him. It was quite a leap of faith, and at first you think, 'what have I done?' But he's been fantastic and it's turned out really well."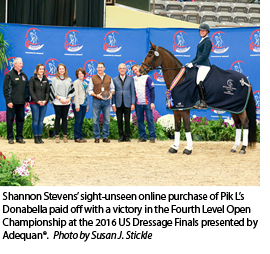 Region 8 riders claimed top honors in the Fourth Level Open Championship, where Shannon Stevens of Annandale, N.J. rode her seven-year-old Hanoverian mare Pik L's Donabella (Pik L x Donatela by Don Primero, bred in the U.S. by Horses Unlimited) to the win with 71.556%. "I bought her when she was two years old, sight unseen from an online auction. There was something I saw in her in the first 30 seconds that made me feel I had to have her, but my husband thought I was out of my mind!" she laughed. "My mare is a super energetic, exuberant type so my goal going into this was to ride a clean, conservative, harmonious test and I think we achieved that. To be honest, she's a humbling horse and every day can be a bit of a challenge, but she's pushed me to become a better rider. I've learned so much from her and I was really pleased with our performance today." Region 8 team mate Jane Hannigan of Harvard, Mass. rode the seven-year-old Oldenburg gelding Fackeltrager (Fackeltanz x Whisper D by Gribaldi, owned by Ruling Cortes LLC) to Reserve with 69.741%. "We did Third Level here last year and wanted to come back because it's such great experience for him to be in this environment," said Hannigan. "It was cold and windy today and he was a little snorty but he tried his best to pay attention. He tried to do too many flying changes but he was just trying too hard. He's a very elastic mover and the lateral movements are his strength."
After traveling all the way across the country to compete, a Region 6 competitor once again grabbed headlines as Morgan Barrows of Monroe, Wash. rode Janice Davis' eight-year-old Oldenburg gelding San Corazon (San Amour x Ridehna by Rohdiamant) to victory in the Intermediate I Open Freestyle Championship with 71.708%. "I came out knowing I needed to do better than I did in the Intermediate I class yesterday, but pulling the first ride in the class is not a position I like being in. I don't get nervous during the ride, but I do get extremely anxious after the ride so it was hard for me to watch the rest of the class," said Barrows. "I've been using this freestyle in CDI's this season and I knew what I needed to do to amp it up, so I took those risks and it paid off. It's a long way for us to come to the Finals, but we had a super trip coming here and have no regrets. For all of those people sitting at home considering coming in the future, I would have to say, 'get in the truck and go.' It's great here in Kentucky and I'm not sure there's anywhere else that can do this event like this." Earning her second straight Reserve Championship of the weekend was Ashley Wimmer of Winston-Salem, N.C. (Region 1) who earned 71.583% with her own 11-year-old Oldenburg mare Somerhall (Sir Donnerhall x Arantscha B by Archipel). "She was a little bit tense in the Alltech today but I was able to get her settled for the most part. We had a mistake in the three-tempi's but it was completely my fault, and the rest was really good," said Wimmer. "My freestyle was designed by my daughter and it suits my horse really well because she's a very elegant, light-moving horse. That can be a challenge to get right, but we get great scores for it."
Less than one-tenth of a point made all the difference for Darcy Gaines of nearby Versailles, Ky. (qualified in Region 4) to win the Intermediate I Adult Amateur Freestyle with 69.917% aboard her 11-year-old Dutch Warmblood gelding Amigo (by Scandic). "I'm so thrilled. Everything I asked for, he responded – he was right with the music and didn't make any mistakes. I couldn't have asked for anything more from him today," said Gaines, who described her long journey to find her current partner. "I spent about 13 years buying and selling inexpensive horses to build up enough money to buy a really fabulous horse. But after only a year and getting to show at Prix St. Georges one time, he suffered a career-ending injury and I thought I was done with the sport. But I kept working my tail off and saved every penny I could, and went to Europe where I found Amigo as an unbroken two-year-old and didn't spend a lot of money on him. I've brought him along all by myself and I still do everything I can to support this hobby I love." Alexandra Krossen of Basking Ridge, N.J. (Region 8) and Heather Mason's 11-year-old Hanoverian cross mare Damani (Duvall x Godiva by Gesandt, bred in the U.S. by Virginia Godfrey) earned the Reserve Championship for this division in 2015, and returned to Kentucky to earn the same honor this year with 69.833%. "Damani came to Heather as a sale horse, and last year was our first season together. Luckily I still have the ride on her," said Krossen, who works for a pharmaceutical company when not in the saddle. "She was a little hot today but that actually made things flow a little easier, despite a bobble in our three-tempi's."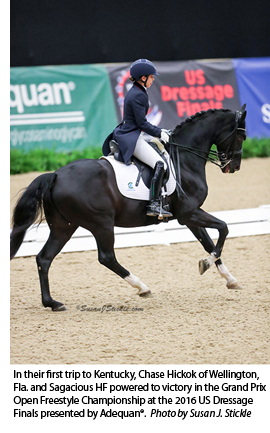 Under a stunning November moon shining over the frosty Bluegrass countryside, Region 3 riders quickly heated things up in the Alltech Arena as evening festivities got underway with the Grand Prix Adult Amateur Freestyle, where Lynnette Wadsworth of Hastings, Fla. rode her 17-year-old Friesian gelding Wietze G (Rypke x Wijke by Reitse) to claim both the win and the Calaveras County Perpetual Trophy presented by artist Olva Stewart Pharo with 66.750% over Phyllis Sumner of Atlanta, Ga. with her 15-year-old Hanoverian gelding Wilby (Walt Disney I x Doretta by Darling) on a score of 66.500%.
As the next-to-last combination to canter down centerline in the Grand Prix Open Freestyle, the elegant pair of Chase Hickok of Wellington, Fla. (Region 3) and Sagacious HF (17-year-old Dutch Warmblood gelding Welt Hit II x Judith by Cocktail, owned by Hyperion Farm Inc.) quickly took command of the crowd and powered to their second Finals triumph in as many days. Their winning score of 74.167% gave them the unanimous victory under all three international judges including Janet Foy, Lilo Fore, and William Warren. "We are just ecstatic with the results from this weekend! Our goal was to come here and have a positive experience in anticipation of moving up to the CDI Grand Prix level during the upcoming Florida season, but this far exceeded our expectations," said a delighted Hickok. "I really love our freestyle. The music actually came with Sagacious, and I've tweaked it a bit to suit us and changed around the choreography some, but the credit for the design and music selection really goes to Marlene Whitaker. It's such a fun freestyle to ride and I think the music really suits Sagacious and highlights his strengths." After winning Thursday's Intermediate II Open title, Heather Mason of Lebanon, N.J. (Region 8) and her 13-year-old Dutch Warmblood gelding Warsteiner (Riverman ISF x Welona by Roemer) had another strong performance to finish with Reserve honors on a score of 72.917%.
The US Dressage Finals presented by Adequan® will conclude on Sunday as the last group of eight champions for 2016 are crowned. Follow the action through updates on the USDF Facebook page and the US Dressage Finals website, as well as watch live online streaming on the popular USEF Network at this link: http://www.usefnetwork.com/featured/2016USDressageFinals/. To learn more about the US Dressage Finals presented by Adequan®, download competition information, review day sheets and results, and read daily news releases, visit the official event website at http://www.usdressagefinals.com.
Founded in 1973, the United States Dressage Federation is a nonprofit membership organization dedicated to education, recognition of achievement, and promotion of dressage. For more information about USDF membership or programs, visit www.usdf.org, email usdressage@usdf.org, or call (859) 971-2277.