The Show Must Go On at the 2016 US Dressage Finals Presented By Adequan®
For Immediate Release
Monday, November 14, 2016
Source: Yellow Horse Marketing for the US Dressage Finals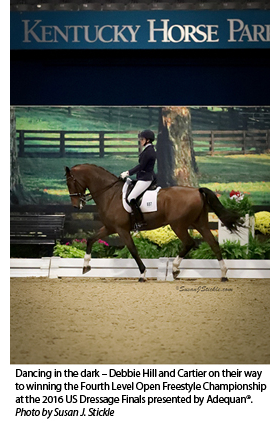 Debbie Hill comes to Kentucky every year for the US Dressage Finals presented by Adequan®, and has gone home to Gurley, Ala. (Region 3) with her share of championship titles. But this year, much to her dismay, uncharacteristic mistakes by each of her three mounts had so far kept her out of the winner's circle. She was down to her last ride Sunday afternoon in the Fourth Level Open Freestyle on a horse she'd already had a disappointing performance with earlier in the week. And then the lights went out. "I came into the arena and just thought, 'oh no'," said Hill.
A blown transformer just after 2pm ET had utility crews scrambling and left the Alltech Arena shrouded with only emergency lighting to illuminate the arena floor. But as the saying goes, "the show must go on" and officials, staff, volunteers and competitors all came together to make sure the last class of the day went off without a hitch. Still, Hill wasn't optimistic about her chances with Cartier, a nine-year-old unregistered Dutch Harness gelding owned by Robbie Rice.
"This is his first year of showing and he's quite green, and he can be very afraid and spooky. When that happens, the first thing he does is back off and throw his neck up," she explained. "I had a very hard time in the warm-up because it was so dark. But once we got in the ring, I was pleasantly surprised that he came through! I'm so thrilled that he's come so far because he really is fun, and I always hoped he'd succeed."
The pair's unanimous win under all three judges with an overall score 74.389% for their Pink Panther/James Bond medley could also be considered for a "Least Likely to Succeed" award. "We were told by his previous owner that he came from the Amish, and went through the New Holland sale as a driving reject," Hill said of her mount. "He was put up for sale as a dressage horse, and when we first saw the sales video my client was like, 'no way'. But there was something about him I liked – I couldn't put my finger on it. There were moments where he had that nice swing in his gait and he has a lot of presence. When we went to see him, it was out in the middle of nowhere and there was no arena to ride him in. His owner said he just rode him out in the forest! Everybody said 'no', but I thought I could make something out of him.
"Right from the start, Cartier was so sweet and willing, but it was a mess," Hill continued. "It was quite a struggle trying to get him to put his neck down, bring the hind legs under and his back up. He had no idea how to even be on the bit. For the first six months I was like, 'what are we going to do with this?' Thankfully Roel Theunissen really helped me with him. Of course in hindsight, I'm so lucky we took a chance on the horse, because he's certainly rewarded my faith." Finishing with Reserve honors on her home turf with a score of 72.778% was Reese Koffler-Stanfield of Georgetown, Ky. (Region 2) aboard her seven-year-old Dutch Warmblood gelding Elancourt (Ampere x Belita V by Stedinger).
Endel Ots of Wellington, Fla. (Region 3) has competed around the world, and he turned his first trip to the US Dressage Finals into a winning one aboard the seven-year-old Oldenburg gelding Samhitas (Sir Donnerhall x Heidebluete by Abanos) owned by Ots and Gary Vander Ploeg. The pair earned 71.009% in the Prix St. Georges Open Championship to be awarded the Miki Christophersen Perpetual Trophy (presented by USDF Region 4). "He's only seven so this is his first year at the level, but he was very solid," said Ots. "We've competed together in Europe for the 2015 Young Horse World Championships as well as Devon this year, so he's used to competing in venues like this with a lot of atmosphere. I'd heard and read about this show and wanted to come, and it's been fantastic. If I had more horses ready I'd bring them too. I couldn't recommend the show any more." Having already earned the Intermediate I Open title earlier in the week, Mike Suchanek of Cambridge, Minn. (Region 4) added Reserve Champion Prix St. Georges honors to his resume with Hero L (nine-year-old Hanoverian gelding [His Highness x Waterlily L by Wolkenstein II] owned and bred in the U.S. by Leatherdale Farms) with a score of 70.132%.
Last year's Prix St. Georges Adult Amateur Champion Rachael Hicks of nearby Prospect, Ky. (Region 2) successfully defended her title Sunday morning to be awarded the Janine Westmoreland Malone Perpetual Trophy (presented by USDF), but this time it was aboard her nine-year-old Rheinlander stallion Don Cartier (Don Schufro x Carmina by Cartier) with a score of 68.377%. "The good and the bad of it is that we weren't in the indoor where he sees spooky monsters, but it was freezing out there at 8am! I couldn't even feel my fingers and couldn't adjust my reins because they felt frozen in one position," she laughed. "I don't know that it was our best ride, but it was very steady and good enough to get the job done. He needs as much event exposure like this as possible to keep progressing, and we now hope to try the CDI Adult Amateur division in Florida." Hicks just edged out California's Elma Garcia from Thermal (Region 7) with 68.246%. Her 14-year-old Hanoverian mare Wenesa (Westemhagen x Dancing Girl by Davignon I) hitched a plane ride to Kentucky with Thoroughbred racehorses returning from the recent Breeders' Cup at Santa Anita. "I think we held back in our Intermediate I ride earlier in the week, so we really went for it today. My changes were clean and big and bold, and I'm just delighted," said Garcia. "I told my coach right from the beginning of the year that I wanted to qualify for the Finals and have this experience. This is a 'bucket list' event and I don't know how you can't come if given the chance – I'm just so happy we came and proud of my mare."
Mike Suchanek of Cambridge, Minn. (Region 4) may have been the busiest rider at the Finals this year, but his efforts were rewarded with yet another title for Leatherdale Farms as Hannigan L (five-year-old Hanoverian gelding [Herzensdieb x Pia Colada by Pik L] bred in the U.S. by Leatherdale Farms) was the only performance to break the 70% barrier to earn 70.163% and the win in the Second Level Open Championship. "I love these youngsters!" said Suchanek. "In warm-up he was a little excited at first about the freestyles going in another ring, but he settled and the ride went perfectly. He likes to perform and I had a lot of fun out there. The Second Level work comes easy for him – he has the gaits and the stature to pull it off. His canter work is very good, he's very well-balanced. I couldn't have been more pleased with him." Finishing with his second Reserve Championship title of the week was Martin Kuhn of New Berlin, Ill. (Region 2), this time aboard Colleen Rull's six-year-old Hanoverian gelding Rapson (Rapture R x Wisteria by Warkanson, bred in U.S. by the St. Louis Equestrian Center) with 68.943%.
As a trainer for the world-famous Tempel Lipizzans, Jessica Starck of Old Mill Creek, Ill. (Region 2) is usually helping to prepare the legendary white stallions for special appearances across the country. But this week she stepped into a different type of spotlight to win the First Level Freestyle Open Championship with Tempel Lipizzans's U.S.-bred six-year-old stallion Maestoso Alfaya II (Maestoso Legeny x Alfaya by Favory V Jacinda) with an impressive score of 74.178% using music from the 1940's. "He was right with me, which is a blessing because he's a very spooky horse and he can either be 'on' or 'off'. I was the most nervous for this class that I've ever been out of everything we do," said Starck. "But he stepped up to the plate and kind of took over, and we had a fun, beautiful ride. I've been working with him for about a year, and dealing with the spookiness has been difficult. To bridge over to the competitive sport was a little bit of a stretch at first, but it was a great goal and we did it. This experience has really helped him mature, and he may take the skills he's learned this year in the competition arena to become part of the Tempel stallion show in the future. It would be great fun to do both." Taking home Reserve honors with 71.722% was Nicole Harrington of Amelia, Ohio (qualified in Region 4) aboard Camomila MCD, a five-year-old Pura Raza Espanola (Hielo MOR x Jazmin MOR by Zodiaco II) mare owned and bred in the U.S. by McDowell Equestrian Inc.
The competition couldn't have been more hard-fought than it was in the First Level Freestyle Adult Amateur Championship, where the top two combinations finished on the same score of 70.722%. A tiebreak gave the ultimate victory to Malena Brisbois of Nokesville, Va. (Region 1) with her homebred 12-year-old Swedish Warmblood gelding Amadeus (Briar 899 x Rock Starlet by Rocamadour). "It's fun to be able to ride a horse you've had since he was a thought in your head and take him to the national championships," said Brisbois. "Our freestyle uses the song 'Rock Me Amadeus' by Falco, so it's very fitting and he puffs up when he hears his music – he loves to hear his name over the loudspeakers! This was our last freestyle ride before we move up to Second Level, so it was a great way to finish." Fellow Region 1 competitor and former eventer Jessica Keating of Ashburn, Va. also rode her homebred mount Divine Comedy (13-year-old Belgian Warmblood gelding [Nevada x Cair Paravel by Castle Guard]) to earn Reserve with her Fleetwood Mac-themed performance. "He's 15.2 hands but I'm 5'10" so he looks deceptively small – he's a little guy but he takes big steps," Keating noted. "This is our first year doing dressage and I actually wasn't going to come to the Finals. But someone said to me at Regionals that with horses, if they're sound, healthy, able, and you get the chance, you have to do it. So I really took that to heart and my experience here has been fantastic."
After being the bridesmaid in Saturday's First Level Adult Amateur division, pharmaceutical sales representative Lauren Lewis-Gladish of St. John, Ind. (Region 2) finally walked down the aisle to claim the Training Level Adult Amateur Championship with her "dream horse" Sinfonie (six-year-old Hanoverian mare [Soliman de Hus x Bravour by Belissimo M]) with a winning score of 72.121%. "Can you believe it?" she exclaimed. "I was really looking for her to trust me, and she really gave me her all. We've had some ups and downs since I got her because she had her foal last year and we just started back riding this spring. Then when we got here the other night, she slipped and fell on the cement and I didn't even think we'd be competing. Coming here is overwhelming, so for them to look to you for guidance like she did today and go like she did, it's very special." Earning the Reserve Championship with 70.379% was Sara Davisson (also representing Region 2), a special education teacher from Calamus, Iowa. This was Davisson's third trip to the Finals, but she wasn't so sure about coming this year with her Dutch Warmblood gelding Havallo. "It was a little nerve-wracking to think about coming this year with a four-year-old, and I was kind of on the fence about it," she explained. "But he won at Regionals and I took the chance even though you never know how things can go with young horses. He handled everything like a pro and just kept getting better and better throughout the week. He really is a rock star. This was the first time in nine years that my in-laws got to see me show, so it was a family affair and made it all the more special."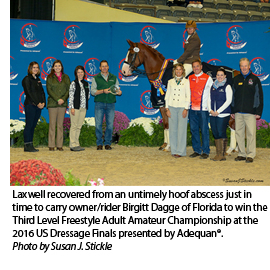 Birgitt Dagge's seven-year-old Oldenburg gelding Laxwell (Lingh x Dessous by Donnerhall) recovered from an untimely hoof abscess just in time to earn a unanimous victory for her and Region 3 in the Third Level Freestyle Adult Amateur Championship with 71.000% over Teresa Fickling of Macon, Ga. (also of Region 3) aboard her eight-year-old Dutch Warmblood gelding Dolcetto O (Sandreo x NN by Welt Hit II) with 68.944%. "A special thank you to my farrier who is here and re-shod him about 10 times on Wednesday trying to get him figured out, and it worked," said Dagge, a realtor from Bonita Springs, Fla. "He loves the atmosphere in the Alltech because he thinks he's awesome, and of course I do too! I love doing freestyles and he's a super horse – this is just his fourth time doing this freestyle, and his flying changes were very good today. We had to work for the last few days to get our momentum back, but today was our day."
Adding to the excitement of the final day, the top-scoring riders in various divisions from each of the Great American/USDF Regional Championships competed on regional teams in the second-annual US Dressage Finals Regions Cup, vying with competitors from across the country for awards and bragging rights for their respective USDF Region in which they qualified to attend the Finals. Coming out on top after four days of championship competition was the Region 3 team comprised of Kristy Truebenbach Lund and Living Lucky at Training Level Adult Amateur, Amy Swerdlin with Quileute CCW at Second Level Adult Amateur, and Endel Ots with Samhitas in the Open Prix St. Georges. Their winning average score of 70.498% was good enough to successfully defend their 2015 Regions Cup title ahead of Region 7 with 69.172% and Region 9 with 69.067%.
More information including final results, photo galleries, and news archives from the 2016 US Dressage Finals presented by Adequan® are available on the official event website www.usdressagefinals.com. Video on-demand from select championship performances is also available on the USEF Network at www.usefnetwork.com.
Founded in 1973, the United States Dressage Federation is a nonprofit membership organization dedicated to education, recognition of achievement, and promotion of dressage. For more information about USDF membership or programs, visit www.usdf.org, email usdressage@usdf.org, or call (859) 971-2277.