An Eventing Champion Takes on the Dressage World at This Week's 2017 US Dressage Finals Presented By Adequan® - Watch Live!
For Immediate Release
Wednesday, November 8, 2017
Source: Yellow Horse Marketing for the US Dressage Finals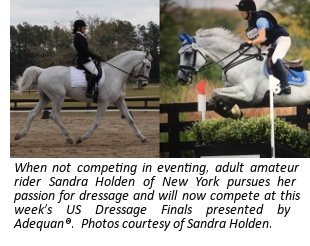 Just two months ago, Sandra Holden of Pleasantville, New York experienced the thrills of competing in the national spotlight as she and her 14-year-old Hanoverian gelding Cano Cristales galloped to a top-three finish in the Training division of the American Eventing Championships (AEC's) in Tryon, N.C. Now the talented pair will once again seek tophonors on the national championship stage at this week's US Dressage Finals presented by Adequan®, with more than 390 entries representing all nine United States Dressage Federation (USDF) regions and 38 states plus the District of Columbia in head-to-head competition for national titles across 30 different Open and Adult Amateur divisions.
Holden found her equine superstar seven years ago in Texas. "My daughters were part of Pony Club and were focused on eventing, so I wanted to be involved in what they were doing," she explained. "He was the very first horse I looked at and I felt a special connection with him right from the start. He is the most amazing horse ever born who never hesitates to try so hard to do everything I ask. He's my horse of a lifetime, and I could talk all day about him."
After more than 20 years in real estate, Holden now devotes her time to running her own boarding stable in New York State and pursues a blossoming eventing career aboard Cano Cristales, which paid off with a victory in the Beginner Novice national championship at the AEC's in their third outing together in 2011. The pair also embarked on their pursuit of dressage at First Level, and currently compete at Fourth Level and Prix St. Georges. On Saturday, Holden and Cano Cristales will compete for the Fourth Level Adult Amateur Championship at the US Dressage Finals after earning an invitation by placing at the Great American/USDF Region 8 Championship in Saugerties.
"I love the thrill of eventing, but dressage is the most intense and precise thing you can do with a horse. We take it very seriously and when it comes to the Finals, I'm a 'repeat customer'," laughed Holden, who once again drove herself and her horse more than 15 hours to Lexington for their third trip to the Finals. "I am very goal-oriented. Two of my goals every year are to try to make it to the AEC's and the US Dressage Finals as they represent the top of each sport and are what I set my sights on. It is an honor to be here competing at the Kentucky Horse Park, and the surrounding area is breathtakingly beautiful and inspiring."
Holden will also be rooting for fellow Region 8 riders Alexandra Krossen, Linda Currie and Emily Wyman as they participate on the Region 8 Team in the Third Annual Regions Cup Team Competition. With a regional team of three athlete/horse combinations representing each USDF region, competitors can show their regional pride and compete for bragging rights as the top scoring eligible rider/horse combination from Training/First Level and FEI-level Regional Championships classes as well as the highest scoring eligible adult amateur rider/horse combination from the Second through Fourth Level Regional Championship classes make up each regional team. The winning team is determined by averaging the highest final scores achieved by each athlete/horse combination in their US Dressage Finals class.
Like many other riders, Holden's friends and family at home will be able to follow the action from the US Dressage Finals via live-streaming on the USEF Network at www.usefnetwork.com, with coverage beginning Thursday, November 9 with the first round of national titles presented in the Alltech Arena (see the entire live streaming schedule here).
Complete daily schedules and ride times are now available! To learn more about the US Dressage Finals presented by Adequan®, download competition information, review entry lists, purchase tickets to special events, and sign up to receive news and updates, visit the official event website at http://www.usdressagefinals.com.
Founded in 1973, the United States Dressage Federation is a nonprofit membership organization dedicated to education, recognition of achievement, and promotion of dressage. For more information about USDF membership or programs, visit www.usdf.org, email usdressage@usdf.org, or call (859) 971-2277.