Festive Freestyles Featured on Third Day of 2017 US Dressage Finals Presented By Adequan®
For Immediate Release
Sunday, November 12, 2017
Source: Yellow Horse Marketing for the US Dressage Finals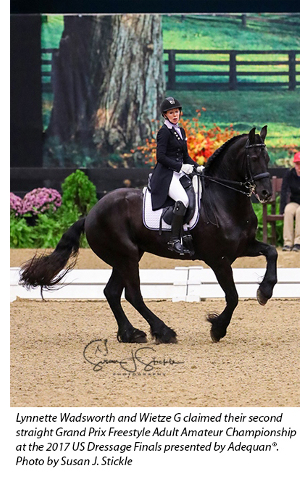 "I wasn't looking for another Friesian when I got the call about Wietze, so at first I said I wasn't interested. But then I tried him and after 10 minutes I said, 'I have to have this horse!'"
Little did retired dance teacher Lynnette Wadsworth of Hastings, Fla. (Region 3) know that her now 18-year-old Friesian gelding Wietze G (Rypke x Wijke by Reitse) would carry her to back-to-back victories in the Grand Prix Freestyle Adult Amateur Championship division at the US Dressage Finals presented by Adequan®, being held November 9-12 in Lexington, Ky. The pair claimed the Calaveras County Perpetual Trophy (presented by Olva Stewart Pharo) in 2016, and came back to the Alltech Arena to reclaim the title with a top score of 66.417% for their classic rock-themed performance.
"He was actually quite tense today but I was able to pull him together and make a decent ride out of it. I wanted to have a good time because it's new music for us and it was all about having fun this year," said Hastings. "Nine years ago when I bought Wietze, he had all of the upper-level movements already on him but I was barely a Third Level rider. So I get this big horse and he can piaffe and passage but I couldn't get basic movements out of him, so I had to rise to the occasion – he's really taught me how to ride. We started together at Third Level and with lots of help from my trainers I've been able to get to his level. He's so willing, safe, and fun – I couldn't ask for a better dance partner."
Finishing in reserve was Jennifer Drescher of Frederick, Md. (Region 1) riding her 16-year-old Morgan gelding Blue and White Raven (Night Hawk of Rocking M x Four-L Black Magic by Goldenaire Senator G, bred in the U.S. by Joanna Kelly) with 66.058%. "We've also come through the levels together and I'm so lucky to have him," Drescher noted. "He was a superstar and so willing today and I couldn't be happier."
A tough field of horses and riders competed for Intermediate I Freestyle Open Championship honors, and in her first trip to the US Dressage Finals Melissa Taylor of Wellington, Fla. (Region 3) rode the 12-year-old Dutch Warmblood Ansgar (Special D x Diona by Formateur) to a decisive victory with 74.058% as owner Nicole Polaski watched her gelding earn the win from New York City via livestreaming on the USEF Network. "I'd always heard great things about this show, and this year the timing worked out for us to come. I love the facility and it's an amazing event," Taylor explained. "When I got Ansgar, we needed to work on trusting each other in the show ring, and it really took me all season to develop that. Just now I felt like he really stepped up at Regionals, and again here at the Finals. I was super proud of him today – he's a hot little tamale who definitely has an opinion of his own, so I was pleased that we came together in such a good way."
Nicole Levy (Georgetown, Ky. Region 2) was also pleased with her partnership with Kate Sanders' nine-year-old Hanoverian mare Floratina (Fidertanz x Rubina by Rubin-Royal) as they claimed reserve honors with 71.817% for their final Intermediate freestyle performance before moving up to the large tour next year. "It took a while to gain her trust and get her to want to work for me, not feel like she had to," said Levy. "So my goal for her is to always come out and feel confident in what she does, and she was really good today."
For Adult Amateurs in the Intermediate I Freestyle Championship, 2016 reserve champions Alexandra Krossen of Basking Ridge, N.J. (Region 8) and Heather Mason's 11-year-old Hanoverian cross mare Damani (Duvall x Godiva by Gesandt, bred in the U.S. by Virginia Godfrey) came back to Kentucky to claim the top title with 70.842%. "She was amazing – she was very calm and collected, which isn't always the way she is so it was a nice surprise," Krossen noted. "She was totally with me and did everything I could have asked. She has really good flying changes, so I did my 3's on a circle and my 2's down centerline to really show them off, and our pirouettes have gotten a lot better this year as well."
Friday's Intermediate I Adult Amateur Champions Elma Garcia of Mill Spring, N.C. (Region 1) padded her resume even further by earning reserve in today's freestyle with her 15-year-old Hanoverian mare Wenesa (Westernhagen x Dancing Girl by Davignon) on 68.792%. "We're fairly new to freestyles, but I was inspired by Mongolian music at a film festival so I decided to try it for our performance," said Garcia.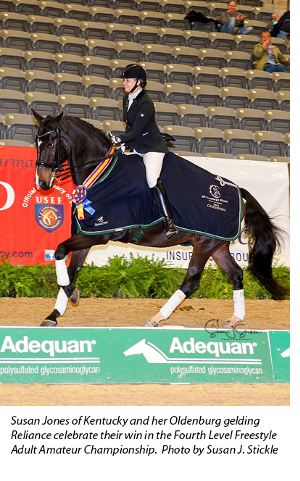 The top placings for the Fourth Level Freestyle Adult Amateur Championship could hardly have been closer as less than one-tenth of a point separated champion from reserve, but it was Susan Jones of Walton, Ky. (Region 2) who claimed the top spot with her 14-year-old Oldenburg gelding Reliance (Rohdiamant x Gesstine by Classiker) on 71.067% for their Beach Boys-themed performance. "We've been together almost eight years – I got him to build my confidence and learn to be the best dressage rider I could be, and he's lived up to his name," Jones explained. "He's always very calm, but today six mounted police officers went by the warm-up 10 minutes before my ride, and I thought I was going to get bucked off. I went into the ring thinking it was going to be the best ride I've ever had or it would be a disaster. I was able to use everything I'd learned to harness that feistiness and he was awesome. Now I should thank those officers! It was the best we've ever done so it was a bit of a surprise in a nice way and very special."
Lisa Rush's 17-hour drive from Dell Rapids, S.D. (Region 4) almost ended in disaster after arriving at the Kentucky Horse Park, but she and her eight-year-old Westfalen gelding Finestep HW (Florenciano x Merana by Medici) rebounded to claim reserve championship honors with 70.989%. "After we arrived here on Wednesday, he fell in the lunging ring and hurt his stifle and I wasn't sure we'd even be able to ride," said Rush. "So I'm very grateful that he recovered so quickly and end up being able to be here today – he felt great! He works so hard for me and I've really enjoyed being with him, and we'd like to try for the Developing Prix St. Georges Championship next year."
Adult amateurs from across the country also competed Saturday for the Second Level Freestyle Adult Amateur Championship, where Sara Stone of Lake in the Hills, Ill. (qualified in Region 2) rode her six-year-old American Warmblood gelding Gotham (Gabriel x Mystic bred in the U.S. by Indian Hills Sport Horses) to the win with 72.844%. This was the pair's third trip to the Finals, but their first attempt at a freestyle which featured music from One Republic. "He was very relaxed – actually it was the most relaxed he's been all weekend. He came out ready to work today," said Stone, who works in commercial insurance when not in the saddle. "Every year he just gets better and better and I learn more and more. I was actually quite nervous, and to be sitting here as the champion is just unreal. I love this horse show, and to be fortunate enough to come back year after year is just incredible."
Family nurse practitioner Ashley Miller of Fort Myers, Fla. (Region 3) rode her 15-year-old off-the-track Thoroughbred gelding Hickeys Creek (Afternoon Deelites x Slewadore by Seattle Slew, bred in the U.S. by Wild Ride LLC) to reserve honors with 69.833% for their Madonna-themed performance. "I like to pick music that makes people stop and want to watch, that's easily recognizable and which people can relate to," Miller explained. "We had some training setbacks due to Hurricane Irma and shoeing issues, but we made it to Regionals and then here to the Finals. He's a very steady Eddie kind of guy who's taught me so much, and he really 'brought it' today."
In the Second Level Freestyle Open Championship, Hailey Guard of Huntersville, N.C. (Region 1) with her nine-year-old Dutch Warmblood mare Dalwhinney (UB 40 x Windsor CA by Warkanson, bred in the U.S. by Susen Shumaker) cruised to the unanimous win under all three judges with 74.556% for their Tchaikovsky-themed performance which Guard put together herself. "I originally wanted to use Swan Lake but it didn't quite suit her, but then stumbled on the Nutcracker and it matched her gaits so well so that's what I went with," said Guard. "'DW' has been phenomenal this week and I couldn't be prouder. I actually started her under saddle as a four-year-old for a client in Minnesota, but she was bred the next year and then I moved away so I didn't see her for three years. A year ago the owner got in touch with me and said they didn't really have a use for her anymore and asked if I wanted her because I had loved her so much, so a big thank you to her previous owner for bringing her back into my life. Since then we've taken our time and went back to basics for this year – I'm enjoying bringing her along and now look forward to moving up together."
Also looking forward to great things to come is reserve champion Kristen Becker of Lemont, Ill. (qualified in Region 2) who earned 71.544% with her six-year-old Oldenburg gelding Amadeus (by Ampere bred by Tricia Veley). "Our freestyle uses Lou Bega's 'Mambo No. 5', and it's really fun and suits his personality. He's such a great competition horse and I'm really excited about the future with him."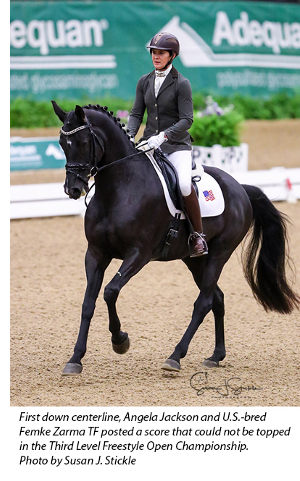 Angela Jackson of Henderson, Ky. (Region 2) had her hands full juggling four rides on Saturday morning, but her hard work paid off in spades as she claimed both Champion and Reserve honors in the Third Level Freestyle Open division. As the first pair down centerline, Jackson topped the leaderboard with Jane Lineberry's seven-year-old Dutch Warmblood mare Femke Zarma TF (Contucci x Allure S by Rousseau, bred in the U.S. by KC Dunn) on the strength of a score of 74.100%, a mark which could not be caught for the duration of the class. Jackson's own home-bred seven-year-old RPSI gelding Figaro H (Fantasmic x Romina H by River H) finished a close second with 72.211% for reserve honors.
"Both horses had lovely tests and I'm so proud of them. Yesterday Femke was a little distracted outside, but today she really focused and it was the best freestyle we've had all year, so it was great to have that kind of ride here at the Finals," said Jackson, who interestingly also found success at this event in previous years with Femke Zarma TF's dam, Allure S. "I'd like to say a huge thank you to breeders like KC Dunn who breed amazing horses like this right here in the U.S., as well as everyone who makes this event a reality, including Adequan, whose support helps to make all of this possible. It's a dream for us to be here."
In outside rings, Anna Marek (Williston, Fla., Region 3) rode Diane Morrison's five-year-old Dutch Warmblood mare Haiku (Sir Sinclair x Melvira by Gentleman) to win the First Level Open Championship with 72.843%. "I've ridden her since she was three and she has endless energy and loves to have all attention on her," Marek laughed. "She's young and sometimes it can be a little bit 'hit or miss' with her, but we had a great ride today. She does have a little bit of an ego, but I like that about her because she goes in the ring and tries so hard, and I think that will eventually help make her a really good upper-level horse."
Martin Kuhn of New Berlin, Ill. (Region 4) was also pleased with Elizabeth Cronin's six-year-old Westfalen gelding Venivici (Vitalis x Sabrina by Sherlock Holmes) as they earned 71.324% for reserve. "Venivici hasn't had a lot of show experience, but he's eager and wants to do a good job," said Kuhn, who earned his second Reserve Championship title of the weekend. "He tries really hard – sometimes too hard – but I was very proud of him and as his confidence grows, I think his good qualities are really going to blossom."
Despite frigid morning temperatures, Stephanie McNutt of Mechanicsville, Md. (Region 1) rode her five-year-old Westfalen gelding Freestyler HRH (Furst Fugger x Dolce Vita HRH by Don Bosco) straight to the winner's circle in the First Level Adult Amateur Championship with 72.598%. "A little chilly would be an understatement, but I do have to say that brisk is good – it keeps the horses motivated," McNutt noted. "I was super happy with him – he's had a long season and was feeling a little unmotivated, but he really pulled it together for me today and gave me good energy, so I couldn't ask for more than that. He's a really good egg. I'm excited to be back for my fourth Finals – this is the pinnacle event for adult amateurs, and to make it here again is really thrilling."
Bonnie Canter of Hocksley, Texas (Region 9) has had a great week at this year's Finals, and a "rear-and-spin move" just before entering the arena did not deter Canter from earning reserve with her youngster Shakira 467 (five-year-old Hanoverian mare, Sporcken x Waluga by Weltmeyer) with 71.176%. "She's definitely a hot red-head," Canter laughed. "She's still young so can be a bit unreliable, but once she's in the ring she's great and I was pleased that she kept it together today."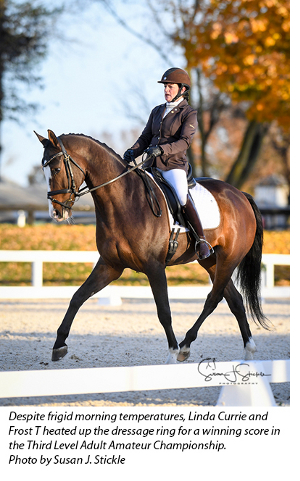 Drawing the day's first ride time of 8am, Linda Currie of Holliston, Mass. (Region 8) had to deal with some of the worst of the sub-freezing temperatures as she prepared for her championship ride. But 25 degrees did not stop her and her appropriately-named seven-year-old Dutch Warmblood gelding Frost T (San Remo x Alona by Jazz) from posting the best score of 70.000% in a huge field of 35 competitors in the Third Level Adult Amateur Championship, ahead of Bonnie Canter of Hockley, Texas (Region 9) and her Connemara/Hanoverian cross mare Fifinella GCF (Fred Astaire x South Ridge Bliss by South Ridge Duncan's Honor, bred in the U.S. by Sharon Garner) who finished in reserve with 69.829%. "I hope someone out there appreciated the irony of my horse's name," she laughed. "Fortunately I live in New England so I'm used to riding in cold weather. Frost T is young but knows his job and has never let me down. Some say it was karma that I got him – I had lost my previous horse to a tragedy and found Frost T just ten days later. He had just been imported and all this weird stuff happened that just seemed meant to be. We have just clicked ever since. He's very talented and is a cool character but he does have an electric side to him that comes out sometimes. Everything seems to come easy to him and he's so willing, he thinks everything is fun and he hasn't had a bad day in his life."
With multiple titles already to her credit, Heather Mason of Lebanon, N.J. (Region 8) knows her way around victory lane at the US Dressage Finals and once again had no problem finding her way there with her 12-year-old Oldenburg gelding RTF Lincoln on a top score of 72.852% to win the Fourth Level Open Championship. "I've known this horse since he was born," said Mason. "He was reserve champion at Third Level at the inaugural Finals in 2013, but the next year he hurt himself and was out of competition for two years. But now he's back in the ring and better than ever. His amateur owner sold him to me for a dollar last year because she had to have hip replacement surgery, and she knew he wouldn't be the right fit for her after that. But she felt like he'd be in good hands with me, and she's even here cheering us on. It's a great situation for everyone. This is such an exciting show to come to – we love this show and come every year, and I have a bunch of clients who also like to come. It's challenging, but everyone gets a lot out of the experience and I look forward to bringing Lincoln back for the small tour next year."
Mason just edged out Region 3's Nora Batchelder (Williston, Fla.), who rode her eight-year-old Hanoverian mare Fifi MLW (Fidertanz x Wolkenstanza MLW by Wolkentanz I, bred in the U.S. by Mary Winn) to reserve with 72.593%. The pair earned a reserve championship at Third Level last year and had no trouble now succeeding at Fourth. "She was a little tight when we first started and there's a lot to look at out there, but she loosened up well and was a really good girl in the ring. I was especially happy with our trot work," Batchelder added.
The highlight of the evening was the Grand Prix Freestyle Open Championship and the presentation of the new Jazzman Perpetual Trophy (presented by Donna Richardson), where fan-favorite and hometown hero
James Koford of Lexington, Ky. (Region 2) rode the eye-catching chestnut tobiano 10-year-old Friesian Sporthorse mare Adiah HP (by Nico, owned and bred by Sherry Koella) to a victorious score of 71.133% for the debut performance of their brand new cowboy-themed freestyle. "She's just starting Grand Prix so I was actually feeling guilty this week thinking 'what am I doing?' because I wasn't sure I had her ready," Koford explained. "When you're this visible and this different, you don't want to not be ready or seem unpolished, but then I thought, 'bring it on'.
"She has so much talent but there's nowhere to school for these types of conditions – it doesn't matter how much you practice at home or go to regular shows, it's not the same," Koford continued. "So win, lose or draw I felt like I had to expose her to this and see if she wants to go 'bright lights, big city'. She literally heard the applause from the horse before her and charged down the tunnel to go in the ring, like 'hang on Jim, I've got this' and I said 'game on sister, let's go!' I could feel that the crowd was so into it. I love riding her and she makes me laugh every day – she's bigger than life."
Also enjoying success in their first season at the Grand Prix level were reserve champions Nicole Harrington of Amelia, Ohio (Region 2) and Three Oaks Farm LLC's 11-year-old Hanoverian gelding Wizard of Oz (Weltmeyer x Vadella by Landacel), earning 70.617% for their appropriately-themed Wizard of Oz freestyle. "The music just seemed to suit him to a 'T'. He's still a little green but it's all coming along," said Harrington. "He's such a hard worker and is a character in the barn. Has only been to maybe six shows in his life and this was the biggest environment he's been in, but he handled this atmosphere fantastically."
The US Dressage Finals presented by Adequan® will conclude on Sunday as the last group of eight champions for 2017 are crowned. Follow the action through updates on the USDF Facebook page and the US Dressage Finals website, as well as watch live online streaming on the popular USEF Network at this link: https://www.usef.org/network/coverage/2017usdressagefinals/. To learn more about the US Dressage Finals presented by Adequan®, download competition information, review day sheets and results, and read daily news releases, visit the official event website at http://www.usdressagefinals.com.
Founded in 1973, the United States Dressage Federation is a nonprofit membership organization dedicated to education, recognition of achievement, and promotion of dressage. For more information about USDF membership or programs, visit www.usdf.org, email usdressage@usdf.org, or call (859) 971-2277.