Riders Realize Their Dream of Competing on the National Stage at 2017 US Dressage Finals Presented By Adequan®
For Immediate Release
Monday, November 13, 2017
Source: Yellow Horse Marketing for the US Dressage Finals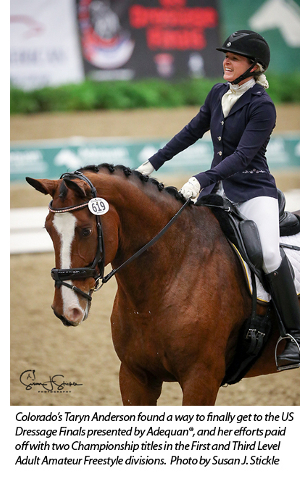 For the last two years, 28-year-old Adult Amateur competitor Taryn Anderson of Erie, Colo. has successfully qualified to represent Region 5 at the US Dressage Finals presented by Adequan®. And for both of those years, she also had to make the gut-wrenching decision not go to simply because she couldn't afford it.
But this year she was determined to save enough money to take advantage of the opportunity, and thanks to plenty of hard work and some help from a new USDF travel grant program, her efforts paid off in spades as she earned Championship titles with both of her mounts on the final day of the 2017 US Dressage Finals presented by Adequan®, being held November 9-12 in Lexington, Ky.
Aboard her nine-year-old Dutch Warmblood gelding Romulus (R. Johnson x Starlight by Incognito, bred in the U.S. by Hearts Meadow Farm), Anderson claimed the First Level Freestyle Adult Amateur Championship with 72.556% for their performance featuring music from Lady Gaga's "The Edge of Glory" and The Script's "Hall of Fame", which Anderson described as "feeling like they tell a little story about the two of us." Not to be outdone, her second ride aboard her mother Tammy Anderson's 10-year-old Oldenburg mare Addison (Allerhand x Felicia by Falkland, bred in the U.S. by Kim Weindel & Zacrossed Farm) earned 70.011% to win the Third Level Freestyle Adult Amateur Championship in the Alltech Arena. "For Addison, we chose Katy Perry's 'Firework' song because it fits her perfectly – she really is a firework," Anderson laughed. "We also use American Authors' 'Best Day of My Life' for our canter work, which seemed especially appropriate today."
In finally achieving her goal of competing at the Kentucky Horse Park, Anderson said her Finals experience turned out to be everything she dreamed of. "The anticipation of wanting to come for three years and not being able to, but then finally being here…it's even more than I expected," she explained. "The competition is really tough, and coming from a smaller region I was like, 'whoa'. But I love it – the huge atmosphere, the arenas, and everything going on…it's all just awesome, and it surprised me a little in that the horses really took to it as well. Even though it took a couple of days for all of us to settle in, I felt like we really hit our stride today. Both of the horses love their music and were really expressive in their tests and gave me great rides. We'll be back!"
Finishing in reserve in the Third Level Freestyle Adult Amateur Championship was the 2016 Third Level Freestyle champion Birgitt Dagge of Region 3 on her eight-year-old Oldenburg gelding Laxwell (Lingh x Dessous by Donnerhall) with 68.389%. "I rode in six classes here this year with my three horses and got a ribbon in all of them, so it's been a great show for us," said Dagge, a realtor in Bonita Springs, Fla. "With this horse we took six months off after last year's Finals and restarted in time to come back here this year, but now there will be no more time off for us because we're looking to move up for next season."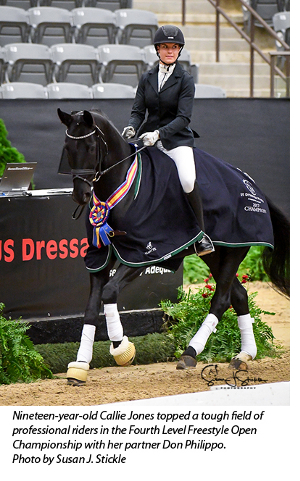 For the last two years, Callie Jones of Region 2 has competed with her nine-year-old Hanoverian gelding Don Philippo (Dancier x Wildnight by Warkant) at top FEI Junior and Young Rider competitions, including the North American Junior & Young Rider Championships (NAJYRC) and the USEF Festival of Champions. And at just 19 years old, Jones had to draw upon all of that experience to successfully top a field full of adults and professionals and win the Fourth Level Freestyle Open Championship with 74.078%. "I think it was the best freestyle we've ever done – it was so consistent and flowing and he was with me the whole time. I even cried at the end because I was so happy," said Jones, a college sophomore in Henderson, Ky.
"I tried to keep the choreography relatively simple and have really solid rides, and I think that's what really helped me," Jones continued. "'Phil' and I have been together for about a year and a half, but I feel like we bonded immediately and I love this horse with everything I have. He's not an easy horse to ride, but it just seems like we 'get' each other. We give each other confidence and he's always there for me. These Finals are a big show for someone young like me, and being here is exciting and such an honor."
Heather Mason of Lebanon, N.J. (Region 8) and 12-year-old Oldenburg gelding RTF Lincoln followed up on their previous day's Fourth Level Open Championship win to claim reserve freestyle honors at this level on a score of 72.767%. "He was a bit spooky going around the outside of the ring, but he was great once we started," said Mason. "His changes were great and he got his pirouettes – he's just a happy horse."
But Mason wasn't done quite yet – she also added the First Level Freestyle Open Championship to her roster of successes from the 2017 US Dressage Finals. Riding Anne St. Martin's five-year-old Canadian Warmblood gelding Enlighteningh (Polansky x Flemmingo 777 by Flemmingh), Mason scored 73.467% for yet another national title. "I thought he was super today – he was more relaxed, we were right with the music and he rode really well," Mason explained. "This is a freestyle I got about 15 years ago, and it's tried and true and has worked well with various horses I've had over the years. It has a high degree of difficulty with a change of lead through trot to counter canter, and it suited this horse. He belongs to a client for whom I recommended that she buy this horse sight unseen, and she did. He's recovered from colic surgery about two years ago and the owner became pregnant this year, so I have the ride for now. Hopefully she'll have him back here herself in the adult amateur division next year, where I think she'll do really well."
Earning their second reserve championship title of the weekend with 70.989% was Martin Kuhn of New Berlin, Ill. (representing Region 4) and Washburn SW, a five-year-old Swedish Warmblood gelding (Wolkentanz II x Opal by Opus) owned and bred by Kuhn's wife, Kathryn. "Washburn seems to love his music – my wife picked it out, and the first time I heard it I said 'no way' but it grew on me. Everyone seems to like it and it works for him," said Kuhn. "I would like to mention that he is our 'second-born' and we were looking for a name for him. A very dear friend of ours provided the name, and she wanted to be here but due to some unfortunate reasons could not come. So I wanted her to know that our thoughts are with her."
Christine Malpartida of Region 3 also had a big weekend with Freudentänzer (Fürst Nymphenburg x Design-RA by Donnerhall) as the pair earned a score of 75.909% for the unanimous win under all three judges in the Training Level Adult Amateur Championship, ahead of Stephanie McNutt of Mechanicsville, Md. (Region 1) and her five-year-old Westfalen gelding Freestyler HRH (Fürst Fugger x Dolce Vita HRH by Don Bosco) who, after being crowned as First Level Adult Amateur champions on Saturday, returned to the ring to claim reserve honors in the Training Level division (72.727%). Malpartida and her six-year-old Hanoverian gelding also claimed reserve honors in the First Level Freestyle Adult Amateur Championship with 71.911% for their Madonna/George Michael medley.
"My horse has been super all weekend – he always seems to step up to the plate and do the job that needs to be done. To be in this environment is very exciting, but he trusted me and nailed it," said Malpartida, who owns real estate and rental properties in her hometown of St. Petersburg, Fla. and also works part time as a groom in order to spend more time with horses. "I imported him as a three-year-old from Germany, which was an exciting journey in itself to find him after a year and a half of looking for my 'perfect mount'. We were reserve champions here at this level two years ago, so it's extremely sweet to come back and win it this time. It's exhilarating and an honor to be here."
Nora Batchelder of Williston, Fla. (Region 3) had her hands full with three mounts scheduled to go down centerline for the Prix St. Georges Open Championship, but it was her ride aboard Andrea Whitcomb's nine-year-old Hanoverian gelding Faro SQF (Fidertanz x SPS Rose by Rotspon, bred in the U.S. by Jill Peterson) that would ultimately claim the Miki Christophersen Perpetual Trophy (presented by USDF Region 4) with a top score of 71.974%. "I'm ecstatic! I wanted to take home a championship and I didn't think it would happen in this class, but I'm really happy about it," said Batchelder. "This was Faro's only class this week, but he was very brave and never put a foot wrong. I'm so proud of him. I think his extended trots and half-passes were really good, and overall he stayed really relaxed. He's such a fun horse to ride – easy to sit and light in the bridle, and every moment is a pleasure. I'm looking to showing him in the small tour this winter in Wellington."
Also finishing just a point behind for reserve was Batchelder with her eight-year-old Hanoverian mare Fifi MLW (Fidertanz x Wolkenstanza MLW by Wolkentanz I, bred in the U.S. by Mary Winn), who had previously claimed reserve championship honors in Saturday's Fourth Level Open division. Fifi MLW's score of 70.921% also earned her the Lloyd Landkamer Perpetual Trophy for FEI Highest Scoring Mare (presented by Janet Foy). "I was little nervous about going first, and initially she was a little backed off in the Alltech Arena because it's a big venue," Batchelder noted. "But she was such a good girl. I want to say that Lloyd [Landkamer] was such a great presence at the shows. He always gave my Corgis treats and was so nice to me. I miss seeing him and it means a lot for me to receive that award and remember him this way."
Throughout the week, Elma Garcia (Mill Spring, N.C., Region 1) has remained at the top of the adult amateur small tour ranks at this year's Finals with her 15-year-old Hanoverian mare Wenesa (Westernhagen x Dancing Girl by Davignon), and the elegant pair wrapped up their winning weekend with a score of 68.904% to earn victory in the Prix St. Georges Adult Amateur Championship and be presented with the Janine Westmoreland Malone Perpetual Trophy (presented by USDF). Garcia, a filmmaker who specializes in television commercials, credited newfound confidence on the part of both her and her horse for their success. "I always say I have two passions in life: filmmaking and photography, and horses. I make money in one to spend it on the other," she laughed. "Wenesa and I have been working really hard since we moved to North Carolina this spring, and I also think that doing some of the CDI adult amateur classes has really made a difference for me confidence-wise as it has pushed me to be better. Despite three days of showing here, she was still fresh today and I had plenty of horse. She's becoming stronger and fitter and just really seems to be coming into her own, and that's an incredible feeling."
Reserve champion with 65.789% was Pam Heglund, a company president and new mom with a nine-month-old son at home in Ada, Mich. (Region 2). She found time to travel to Kentucky with her 14-year-old Westfalen mare Letizia (Laomedon x Pagena by Paradox I) for just one ride and found herself on the podium. "She knows her job, and generally the first time she goes in the ring is the best so that strategy paid off again," said Heglund of her mare. "We've been together for about six years, and we're really a team. We have a lot of confidence in each other and all season it's been easy and smooth, so I was hoping to be in the top three here. It really clicked and worked out for us today."
Heather McCarthy of Prairie Grove, Ill. (qualified in Region 2) considers the Finals to be a "can't miss event" on her yearly competition calendar, and after she rode Sandy Chohany's six-year-old Oldenburg gelding Au Revoir (Ampere x Lara by Liberty M) to win last year's First Level Open title, the pair returned to Kentucky to easily move up a level to also claim the Second Level Open Championship with 71.829%. "He was fifth in the Third Level championship earlier this weekend and I was delighted to have a great ride on him today and get the win," said McCarthy. "After Regionals I really focused on more precision with the Second Level movements, and that work really paid off today. He's a very sensitive horse and shows a lot of talent for collection, so we'll spend the winter really focusing on making him an FEI horse and will start looking towards the Developing Horse classes if he says he's ready."
After working in Denmark for four years, Ali Potasky of Versailles, Ky. (Region 2) found herself in a very different environment at her first US Dressage Finals as she rode Kathy Priest's homebred six-year-old Oldenburg mare Damons Fantasy (Damon Hill x Frascaya by Florencio) to reserve honors with 70.244%. "I took over the ride when her owner had knee surgery, and she said 'take her out and put some miles on her,'" Potasky explained. "We ended up at Regionals and now here, and it's been such an impressive experience. It was lucky for me to get to show her because she's such a lovely mare to ride."
Adding to the excitement of the final day, the top-scoring riders in various divisions from each of the Great American/USDF Regional Championships competed on regional teams in the third-annual US Dressage Finals Regions Cup, vying with competitors from across the country for awards and bragging rights for their respective USDF Region in which they qualified to attend the Finals. Coming out on top for the third year in a row after four days of championship competition was the Region 3 team comprised of Anna Marek and Haiku in First Level Open; Amy Swerdlin with Quileute CCW for Fourth Level Adult Amateur; and Heather Blitz and Praestemarkens Quatero in the Open Prix St. Georges. Their winning average score of 69.943% just edged out reserve champions Region 1 with 69.688%, and Region 8 finishing in third on 69.299%.
More information including final results, photo galleries, and news archives from the 2017 US Dressage Finals presented by Adequan® are available on the official event website www.usdressagefinals.com. Video on-demand from select championship performances is also available on the USEF Network at www.usefnetwork.com.
Founded in 1973, the United States Dressage Federation is a nonprofit membership organization dedicated to education, recognition of achievement, and promotion of dressage. For more information about USDF membership or programs, visit www.usdf.org, email usdressage@usdf.org, or call (859) 971-2277.