12 New Champions Crowned on Third Day of 2018 US Dressage Finals Presented By Adequan®
For Immediate Release
Sunday, November 11, 2018
Source: Yellow
With six arenas of top dressage competition and championship festivities lasting well into the night, the Kentucky Horse Park was the place to be on Saturday as 12 new champions were crowned at the US Dressage Finals presented by Adequan®, being held November 8-11 in Lexington, Ky.
SenSation HW Lives Up to His Name in First Level Open Championship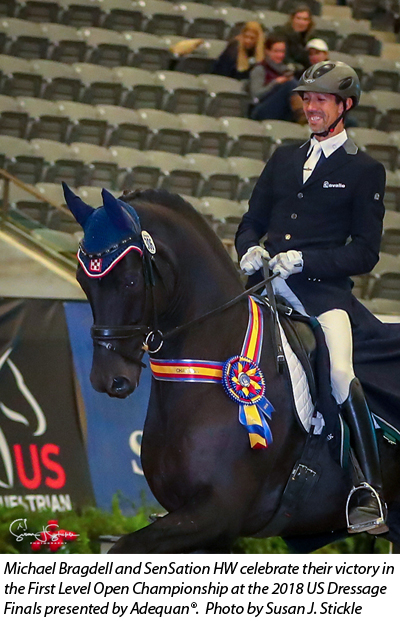 As a foal, Carol McPhee's Westfalen gelding SenSation HW (Sunday x Donata by Dancier) was given a promising name, and since then the young gelding has proven he has every ability to live up to it. In the hands of Michael Bragdell of Colora, Md. (Region 1), SenSation HW was crowned as five-year-old champion at this summer's Markel/USEF Young Horse Championships, and now added another title to his resume by winning the First Level Open Championship at the US Dressage Finals with 75.049%.
"He is special, for sure. He's so talented, but it's more than that – it's his great work ethic, which is so important. It's hard to have talent without the brain, because then you have to force it," said Bragdell of his mount. "In January, I felt like I was starting to tap into that amazing trot, but it was just a glimpse. But over the year it's gotten stronger and stronger, and he really blossomed at Lamplight. We gave him a little break after that and focused on qualifying to come here, and the strategy paid off. These Finals have such an incredible atmosphere, and especially with my young horses when looking toward their future, I want them to have this valuable experience under their belts."
Last year's Training Level Open champion John Mason of Conroe, Texas (Region 9) and the now six-year-old Danish Warmblood mare Savannah SWF (Blue Hors Soprano x Nicolette by Diamant, owned and bred in the U.S. by Mary Nuttall) once again found success at the US Dressage Finals, this time with a score of 73.039% to earn Reserve Champion honors at First Level. "She's a little bit delicate and a late bloomer, so we take our time. We've been on this journey together since she was a yearling," Mason explained. "But she was fantastic in there today. She is a mare who can definitely be 'mareish', but today she was absolutely wonderful. I can't try to predict it – I have to keep an open mind, because if I go in there with any agenda or expectation, she knows and feeds off of it. I just ride what she gives me, and today it was so much more than a hundred percent."
Heart of Gold Earns Fabiola the First Level Adult Amateur Championship
As an orthopedic surgeon, it would be stating the obvious to say that Bethany Gallagher of Nashville, Tenn. (Region 2) has a demanding career. But ultimately finding a way to balance both work and riding turned into a winning formula as Gallagher earned the First Level Adult Amateur Championship over more than 30 rivals with 72.794% earned aboard her seven-year-old Hanoverian mare Fabiola.
"My mare was awesome today, she tried so hard to do her best and did everything I asked. She has a heart of gold and is a worker bee every day. I wanted to come back to the Finals because my horse deserves this chance to show off," Gallagher explained. "As I've gotten older I've realized that I can't do it all, so I finally took the leap and my horse is now with my trainer more consistently which has been really good for me. I can go and ride and advance in my skills, and she stays in work and learning even when my cases go late and clinic goes long. It's also nice because you take a lot of work home with you, and this way I can just relax when I ride her. It's just easier and that's been really good for me."
Melissa Palmer of Purcellville, Va. (Region 1) was also pleased with her six-year-old Oldenburg mare Reagan 10 (Belissimo M x Relaunch by San Amour) as the pair earned the Reserve Championship with 71.814%. "I had a tough ride yesterday with the weather, so I rode a little conservatively today but I was very happy with how she stayed with me," Palmer noted. "I bought her when she was just coming three, and the first time I sat on her was on a lunge line when she was only four days under saddle. She then competed in Europe before bringing her home so she has quite a bit of experience for her age, but we're still developing our partnership together."
Special Journey Earns Elgart Second Level Adult Amateur Freestyle Title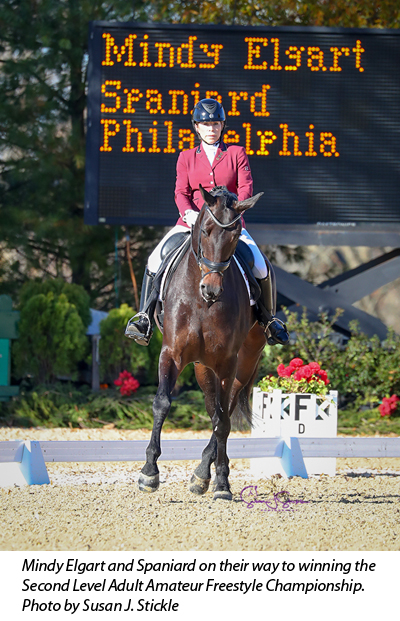 When Mindy Elgart of Philadelphia, Pa. (Region 1) first saw her horse Spaniard (Sinatra Song x Russian Roulette by Rouletto, bred in the U.S. by High Point Hanoverians), he was just a tiny foal featured in an e-mail. Little did she know that six years later, the 17-hand Oldenburg gelding would help her win a national title in the Second Level Adult Amateur Freestyle Championship with a score of 70.922% at the US Dressage Finals.
"I bought Spaniard when he was just four months old," Elgart remembered. "I first saw a photo of him in an email from the breeder, so we went there to look at several babies including him. He was very plain, but I just had to have him. So I've had him since he was a little guy, but he's not so little anymore!"
Elgart credits the close relationship nurtured with Spaniard over the years with helping them win their first national championship. "He's so big that he's been a little slow to develop – I started him later and it's definitely been a journey to bring him along, and not always an easy one," she explained. "But he's as sweet as can be and I always feel safe with him, and I think there's a special bond that develops when you have them from the time they're that young. He seemed very relaxed today, and I think he really likes the music. I felt like I could go for it and ask for everything, and he seemed to be showing off and having fun."
Region 8's Alexandra Krossen of Basking Ridge, N.J. also has a longtime association with Nicene (Nimbus x Pamela by Portofino, owned and bred in the U.S. by Heather Mason). She was there when the now six-year-old Oldenburg mare was born, and on Saturday earned a Reserve Championship at the Finals with 69.533%. "She was great today. We've choreographed her freestyle to suit her strengths," said Krossen. "She was the first foal I ever saw born, but I never thought I'd ride her because she was not an easy baby. She is a chestnut mare in every sense of the word. But she is also a worker when you ride her and usually doesn't put a foot wrong."
Fleming-Kuhn Keeps Her Composure to Win Second Level Open Freestyle Title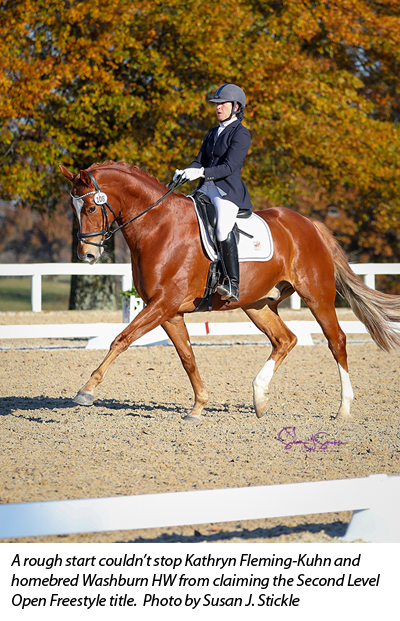 Kathryn Fleming-Kuhn's championship ride in the Second Level Open Freestyle division with her six-year-old homebred Swedish Warmblood gelding Washburn SW (Wolkentanz II x Opal) did not get off to a good start. "My horse is normally really solid, but something caught his eye right before we entered the ring and we had a pretty big spook," explained Fleming-Kuhn of New Berlin, Ill. (Region 4). "That caused me to get off of my music from the very beginning. I knew I had to get it together pretty quick, that it was time to sink or swim."
Fleming-Kuhn's composure, as well as a slight pattern modification, quickly got the pair back on track for a winning performance with a top score of 71.778%. "You have to stay in the moment, and in a freestyle you have a little bit of the luxury in that no one knows your pattern, which allows a little wiggle room to make necessary modifications such as in a situation like this." Fleming-Kuhn also noted how earning a national title aboard a horse she had bred made the success even more poignant. "He is so special and one of the most workmanlike horses I've had the pleasure to ride," she said. "Whether it's the first day of the show or the last, he's the type who always rises to the occasion."
Also riding a beloved homebred to national honors was Reserve Champion Suzanne Graham of Jacksonville, Fla. (Region 3) who braved the cold with her eight-year-old Rheinlander gelding Justice (Freedomhall x Helga de Carolina by Quick de Rouet) with 70.900%. "I was miserable, just frozen solid, but my horse was having a great time out there!" she laughed. "He just did his job and I was so proud of him. He's so nicely forward and steady, and the music emphasizes that; it's also very energetic which I like in a freestyle. I decided to breed my mare after she suffered an injury, and he was the first foal I ever bred. He was so scrawny when he was born that I thought he wasn't ever going to be able to do much, but he has absolutely blossomed."
Tarjan Proves to Be Unbeatable in Third Level Adult Amateur Championship
To say that Alice Tarjan of Oldwick, N.J. (Region 1) has a barn full of equine talent would be an understatement. After winning two national titles with Candescent earlier in the week, Tarjan braved the cold in the Stonelea Arena as part of a field of almost 30 top horses and riders from across the country in the Third Level Adult Amateur Championship. Turns out, the only one Tarjan had to beat was herself as she earned both Champion (75.043%) and Reserve Champion (74.017%) honors with her seven-year-old Oldenburg mare Donatella M (Furstenball x Dorina by Jazz Time) and six-year-old Dutch Warmblood stallion Harvest (Connaisseur x Naomi by Ulft), respectively.
"Here's a funny story: I received a new helmet after winning yesterday's class with Candescent, and I asked the representative if it had good luck, and she said 'yes it does', so I wore it today and clearly it worked," Tarjan laughed. "I had a bit of any eventful start with Donatella this morning because busy warmup areas are hard for her to deal with, and then she took offense to a Kentucky Horse Park police horse and got so upset she was rearing in the warmup. But then once she was in the ring she was fine. Harvest is such an incredibly good boy and very different from Donatella. He's like a computer: whatever you put in is what you get out. There's nothing lost in translation. He's so straightforward – you just kick, he grunts, and off he goes."
Tarjan admitted that choosing to compete at the Finals in the Third Level division was a bit unusual for her, even though the venture proved successful. "I usually concentrate on the young horse classes because I like to focus more on their development and gaits as opposed to being too technical," she explained. "When I look for a horse, I have a certain type and presence that I like, and I know it when I see it. Then I enjoy teaching them how to show off the brilliance that's inside of them, and I do it by focusing on bringing out movement, not necessarily dwelling on correctness of technique. It may be a little different way of approaching things, but it works for me."
Kuhn Turns the Tables to Win Third Level Open Freestyle Championship
Following a one-two finish in Friday's Third Level Open Championship, Martin Kuhn of New Berlin, Ill. (Region 4) was able to turn the tables on fellow competitor Angela Jackson in the Third Level Open Freestyle Championship. But it took quite a bit of improvisation to get that victory on a score of 73.433% with Elizabeth Cronin's seven-year-old Westfalen gelding Venivici (Vitalis x Sabrina by Sherlock Holmes).
"Apparently he knows his freestyle now even though he's only done it about six times. He's a very clever horse – maybe a little too smart for his own good. He was a very, very good boy except for that one brief moment today when he wasn't," Kuhn chuckled. "In our practice ride earlier this week, he put in a flying change early and I took a mental note of it. But today he put in that same flying change even earlier. So I corrected it, which now put me on the wrong lead. Then I realize that I can't change back because I don't have enough room to change again without it being a tempi, which of course isn't allowed at this level. What a mess. So three-quarters of my canter tour ends up being completely improvised. But somehow we pulled it off and it worked out."
Angela Jackson of Henderson, Ky. (Region 2) admitted she was prepared to "go big or go home" with Julie Cook's six-year-old Hanoverian gelding Sandeman (Sir Donnerhall x Flora by Florencio), but a mistake relegated them to Reserve Champion with a still-solid score of 73.233%. "I was a little overconfident and really went for a big extended trot, which is a highlight for him," Jackson explained. "But it backfired – we made it almost all the way across and broke. Martin [Kuhn] is a tough competitor and it's a national championship so I knew I had to go for it. Sometimes you win and sometimes you lose, but we still did great."
Au Revoir Earns Third Finals Title in Fourth Level Open Championship
Sandi Chohany's Oldenburg gelding Au Revoir (Ampere x Lara by Liberty M) is no stranger to the winner's circle at the US Dressage Finals. Despite being only seven years old, the talented youngster has previously earned national titles at both First and Second Level in previous years in partnership with rider Heather McCarthy of Prairie Grove, Ill. (Region 4). And on Saturday the pair added yet another accomplishment to their resume: as the only combination to break 70%, McCarthy and Au Revoir topped a tough field in the Fourth Level Open Championship with a score of 71.370%.
"He was a little electric in warmup due to the cold, but once we went in the ring he settled and put in a great test," said McCarthy. "He's a special horse, and this has been a big year for him in that he's really matured both physically and mentally. We used to call him a peanut but he's a big boy now. This winter we're going to get serious about the half-steps and work on his strength in the collected work, and hopefully be back to the Finals yet again. It's been fun to bring him up through the levels, and I can't wait to see what the next few years bring."
Angela Jackson of Henderson, Ky. (Region 2) also believed in the talent of Sheila Borneman's seven-year-old Dutch Warmblood gelding Gaston TF (Uphill x Neasandra by Sandro Hit, bred in the U.S. by KC Dunn/Timbach Farm), and her faith was rewarded with her second Reserve Championship of the day on 69.852%. "He's been a little slow to mature so I have not brought him to the Finals previously, but this year I felt like he was ready for this type of atmosphere, and he was," Jackson said of her mount. "It's a tough test and keeping him focused has been a little bit of an issue in the past, but I couldn't be more happy with him today because he was soft and with me the whole time, despite the cold. What I liked from day one about this horse was his biomechanics, and I felt like when he grew up he would be able to show what he can do."
An Emotional Victory for Eye Candy in Fourth Level Adult Amateur Freestyle
All equestrians know that life with horses can be an emotional roller coaster, and Amy Gimbel of Tewksbury, N.J. (Region 8) is no exception. "With all the ups come some pretty big downs," said Gimbel, who owns the nine-year-old Dutch Warmblood mare Eye Candy (UB-40 x Wednesday by Weltmeyer, bred in the U.S. by Judy Barrett). "After Regionals two years ago, I was looking forward to coming back to the Finals after doing so well in both 2014 and 2015. But one day she came in from the field and wasn't quite right. What we thought was cellulitis ended up being a much bigger issue with a serious injury to her foot. We spent the winter hand walking and she was laid up for eight months. It took so much time and patience, all the while wondering if she'd ever be able to come back. But here we are finally, and I feel SO lucky to be here."
This week the pair have been making up for lost time in Lexington, earning Reserve Championship honors in Friday's Fourth Level Adult Amateur Championship, and then improving upon that performance the next day to claim the Fourth Level Freestyle Adult Amateur Championship with 71.467%. "She can be a little sassy and sometimes I never know where that sass will come out, so we built our freestyle to allow for some flexibility," Gimbel laughed. "But despite it being unbelievably cold, Candy was a little more relaxed today and we were both very focused, and we were able to stick to our choreography."
Also pleased with her performance was Reserve Champion Michelle Conrad of Northville, Mich. (Region 2) and her 11-year-old Dutch Warmblood gelding Cadiz (Vivaldi x Sylvana by Amsterdam), scoring 71.133%. "I was so happy with him. We had a couple of mistakes, but he was so attentive and good off the aids," said Conrad. "Yes it was chilly out, but the sun was shining and we had a blast. My horse looks at life like a big party so our freestyle features 'Happy' by Pharrell Williams and it definitely suits him. I want to give a special shout-out to all the volunteers working out there in the cold so that we can have this opportunity to compete. It's definitely appreciated by all of us."
Hewitt Now Two-For-Two, Wins Intermediate I Adult Amateur Freestyle Championship
Finals first-timer Hannah Hewitt of Atlanta, Ga. (Region 3) is now two-for-two at the Intermediate I level after winning Friday's Adult Amateur Championship class followed by Saturday's Intermediate I Adult Amateur Freestyle aboard Tammy Pearson's eight-year-old Dutch Warmblood gelding Fidens (Tango x Bliss by United). The pair ran away with the win by earning top scores under all three judges for 75.050%.
"I feel like Fidens and I are getting so much stronger as a partnership, and it's just culminating here at the Finals," Hewitt said. "I love our freestyle, and we hit our music marks with our tempi's right off the bat on the centerline, plus I was happy with the overall fluidity and rhythm of our test."
Hewitt credits her ongoing participation in national dressage programs for helping to set her and Fidens up for success. "I competed in Juniors/Young Riders and the Brentina Cup on my former horse, and those programs helped me develop as a rider and I feel like set me up really well to compete at a show like this," she explained. "I also did the young and developing horse programs with Fidens, which I also think have helped keep us on a great path for the future."
Courtney O'Brien of Ponte Vedra Beach, Fla. (Region 3) was also thrilled with her ride aboard her 11-year-old Andalusian gelding Duque Top (Almirante XXXV x Duquesa XLIII by Faraon X), which earned the pair a Reserve Championship with 71.558%. "This is my third trip to the Finals but the first time getting a ribbon, so I'm very excited and proud of my horse," she noted. "I've never done freestyles before either so this is our first year trying it. I love our music which is Cool Cat jazz, and my trainer purposely designed difficult choreography for me, but I like the challenge!"
Batchelder is a Girl on Fire in Intermediate I Open Freestyle Championship
Every fall, Nora Batchelder of Williston, Fla. (Region 3) makes coming to the US Dressage Finals a goal for herself, and this year she's is on a roll in the small tour. After four hours of hard-fought competition in the Alltech Arena in the Intermediate I Open Freestyle Championship division, Batchelder claimed not only the Champion's title but Reserve as well. Her 10-year-old Hanoverian gelding Faro SQF (Fidertanz x MS Rose by Rotspon, bred in the U.S. by Jill Peterson, owned by Batchelder and Andrea Whitcomb) earned a winning score of 77.383% to edge out stablemate Fifi MLW (nine-year-old Hanoverian mare [Fidertanz x Wolkenstanza MLW by Wolkentanz I], bred in the U.S. by Mary Winn) with 76.783%.
"His music is actually a professionally-made freestyle with Cirque de Soleil music which I re-used from another horse, but it fits him well," said Batchelder. "But for Fifi I wanted something a little lighter, so her music has violin covers of popular songs like Taylor Swift. I made the freestyle myself and I think it suits her.
"I am so lucky to have two amazing horses in Faro and Fifi, but they are completely different," Batchelder continued. "Fifi is really powerful but a bit of a girl – I have to be a little more careful with her. On the other hand, Faro is so easygoing and chill, just up for anything. He loves everyone and everything. It's especially fun when I get to ride Fifi first like I did today, because when it goes well it takes all the pressure off and I can go out and just have fun with Faro. I didn't think Fifi's score could be topped, but I went back to the barn and told Faro what he had to get and he did it. I think he does the math in his head!"
Rumbough Braves the Cold to Earn Grand Prix Adult Amateur Freestyle Victory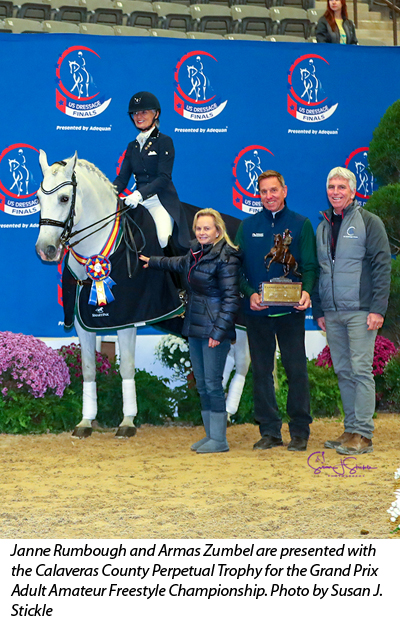 Coming to the US Dressage Finals created a bit of a temperature shock for Janne Rumbough of Palm Beach, Fla. (Region 3) and her 15-year-old PRE gelding Armas Zumbel (Escarzo x Delicia VI by Relampago II). But the pair braved the chilly weather to claim the Calaveras County Perpetual Trophy (presented by Olva Stewart Pharo) in the Grand Prix Adult Amateur Freestyle Championship with a score of 64.467%.
"He was cold and tense because we came from south Florida and I just clipped him, so he was a bit reluctant starting the test," said the 74-year-old Rumbough. "I had to really try to make up for our rough start, but I know my music and my horse really well, so could make adjustments and work to earn back some points. Otherwise I was very proud of him to be able to come from 95 degrees at home to handle the cold here. Four years ago, I won the same title with my homebred horse Junior, so it is very special for me to come back and win it again with another horse. I love coming here and seeing people from all over the country – it's a very special show where everyone is so friendly. We're all winners just by being here."
Kristin Herzing of Harrisburg, Pa. (Region 1) and her Hanoverian gelding Gentleman (Grusus x Rumpelstilzchen by Raphael, bred in the U.S. by Kathryn and Jeffrey Nesbit) earned their second Reserve Championship in as many days with 63.142%. "He was a little grumpy today starting out, but we've been together so long, we're like an old married couple – we have our little spats but always go home together," Herzing chuckled. "He felt pretty solid but was a little opinionated in his tempi changes – he put the 'free' in freestyle. I try to make it a goal to come to Finals every year, and we've gotten better and better each time. I love the camaraderie and the opportunity to ride with such wonderful riders who push you to be better."
Koford Rocks the House with Grand Prix Open Freestyle Victory
During festive evening performances of Grand Prix freestyles in the Alltech Arena, it was crowd-favorite Adiah HP and North Carolina's James Koford (Region 1) who once again rocked the house to claim the Jazzman Perpetual Trophy (presented by Donna Richardson) and successfully defend their 2017 title in the Grand Prix Open Freestyle Championship. Koford and the 11-year-old Friesian Sport Horse mare (Nico x Marije ANT by Anton) unveiled a new freestyle featuring music from owner/breeder Sherry Koella's former international magic show, which proved to be a hit with both the audience and the judges, earning a top score of 71.767%.
"I love it when the crowd cheers for us," said Koford. "Our one tempi's are still a little vulnerable and she can be noise sensitive, but I'd much rather have the audience be into it because when Adiah hits her piaffe, it's like she's saying, 'these are my people'. I'm so happy to be here and playing the game, and winning is just ice on the cake."
Heather Mason of Lebanon, N.J. (Region 8) was delighted to earn Reserve Championship honors with her 15-year-old Dutch Warmblood gelding Warsteiner (Riverman-ISF x Welona by Roemer) on 71.542%. "He was super, I'm so happy with him," Mason noted. "He's just a lot of fun. His energy level was good – we did 22 one-tempi's, and I stopped counting the two's. He was just really good in general."
Watch archived streaming videos Championship classes on the USEF Network HERE, as well as Facebook Live videos of press conferences on the USDF Facebook page HERE. Championship competition concludes Sunday – follow the action through updates on the USDF Facebook page and the US Dressage Finals website, as well as watch live online streaming on the USEF Network at this link: https://www.usef.org/tune-in.
To learn more about the US Dressage Finals presented by Adequan®, download competition information, review day sheets and results, and read daily news releases, visit the official event website at
http://www.usdressagefinals.com.
Founded in 1973, the United States Dressage Federation is a nonprofit membership organization dedicated to education, recognition of achievement, and promotion of dressage. For more information about USDF membership or programs, visit www.usdf.org, email usdressage@usdf.org, or call (859) 971-2277.