USDF Congratulates 2019 USDF/IDA National Quiz Challenge Winners
For Immediate Release
Tuesday, May 7, 2019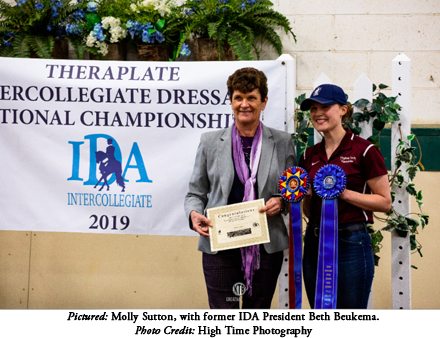 Lexington, KY (May 7, 2019) - The United States Dressage Federation™ (USDF) would like to congratulate Molly Sutton, overall winner of the 2019 USDF/IDA National Quiz Challenge, held at the 2019 TheraPlate Intercollegiate Dressage Association (IDA) National Championships. Molly, a member of Virginia Tech's 2021 class, was entered in the Lower Training division. As the grand prize winner, she will receive a registration to the 2020 USDF/USEF Young Rider Graduate Program in West Palm Beach, FL.
Molly shared her enthusiasm for the challenge saying, "I have always loved dressage, both watching and competing, but I never realized how little I really knew about the sport. Through studying and working for this challenge, I learned about the theory and reasoning behind dressage, and it gave me a whole new appreciation for the sport. I think that this new understanding will help me to be a better horsewoman, rider, and competitor."
USDF would also like to congratulate the winners in each of the other divisions of competition: Kristin Feedback, Virginia Tech, was the winner of the Introductory Level, Erin Panizza, Otterbein University, was the winner of the Upper Training Level, and Sage Crandall, Miami University, was the winner of the First Level.
This competition, open to all IDA members, consisted of two rounds of competition. The first round took place online through USDF, focusing on classical training and dressage competition rules. The five highest scoring individuals in each of the four categories advanced to the finals at the 2019 IDA Nationals, held in the George M Humphrey Equestrian Center at Lake Erie College, in Painesville, OH. All participants in the final round also received a gift from Big Dee's Tack & Vet Supply.
For more information on the USDF/IDA National Quiz Challenge, please visit the IDA website at www.teamdressage.com, the USDF website at www.usdf.org, or contact USDF at youth@usdf.org.
Founded in 1973, the United States Dressage Federation is a nonprofit membership organization dedicated to education, recognition of achievement, and promotion of dressage. For more information about USDF membership or programs, visit www.usdf.org, email usdressage@usdf.org, or call (859) 971-2277.