"Always On My Calendar" - Regional Championships Get Underway on the Road to the 2019 US Dressage Finals Presented By Adequan®
For Immediate Release
Tuesday, September 10, 2019
Source: Yellow Horse Marketing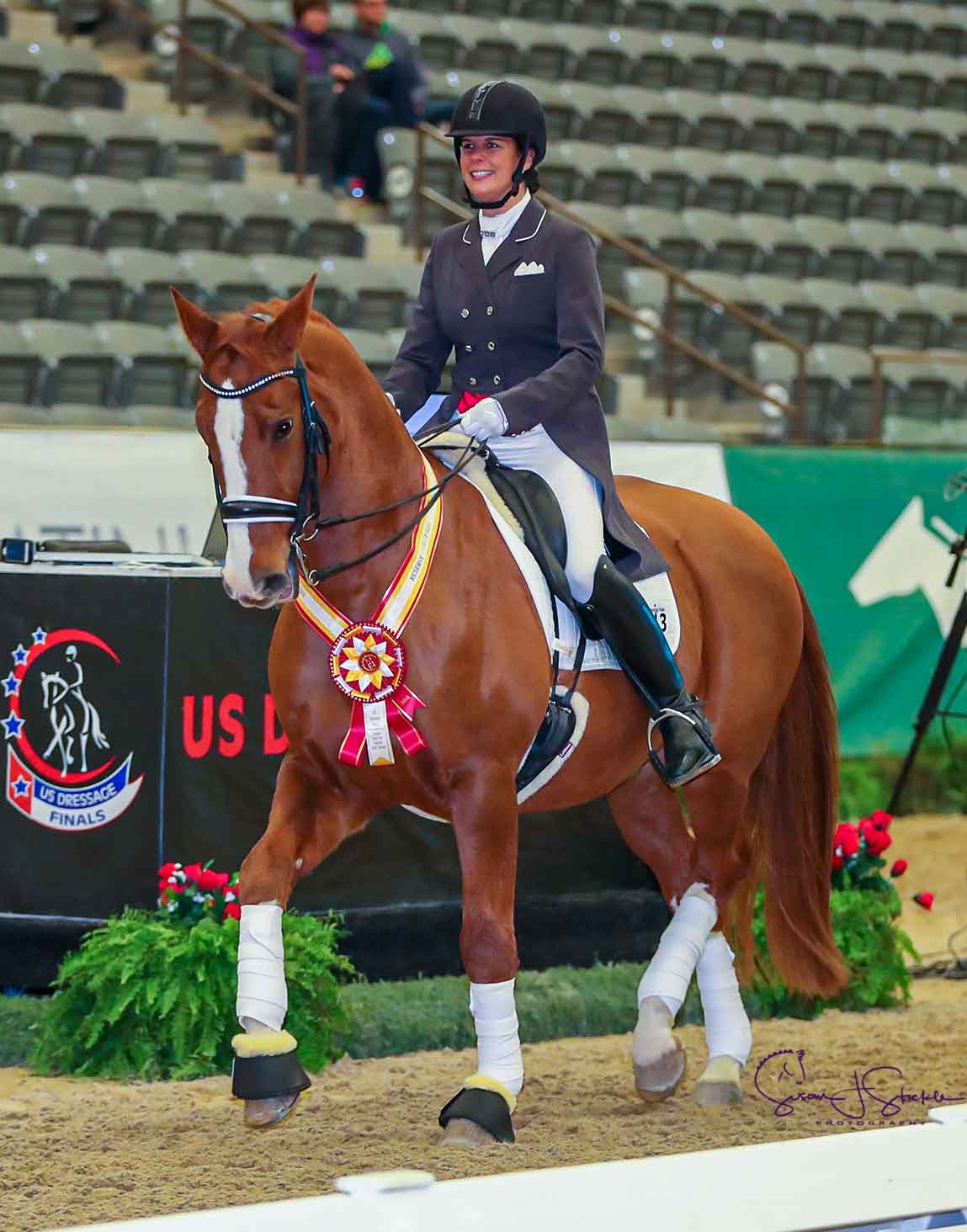 Kristin Herzing and her long-time partner Gentleman will soon head to the Great American/USDF Region 1 Championships where they hope to once again qualify for the US Dressage Finals presented by Adequan®. Photo by Susan J. Stickle.
Lexington, KY (September 10, 2019) - He's grumpy. She's always cleaning up after him. They have spats, then make up. But when it's all on the line at the US Dressage Finals presented by Adequan®, the self-described "old married couple" of Kristin Herzing of Harrisburg, Pa. and her Hanoverian gelding Gentleman find a way to put aside their differences and work together to find success. Having traveled to Lexington four times in the last five years, the pair's persistence paid off last November with their most successful Finals to date, earning Reserve Championship honors in both the Grand Prix Adult Amateur division and the Freestyle. And now the pair are headed to the Great American Insurance Group/United States Dressage Federation (USDF) Region 1 Championships to hopefully qualify for yet another trip to Lexington.
Herzing believes that the US Dressage Finals should be on every rider's bucket list. "There is magical quality to the venue, and the US Dressage Finals is our Super Bowl, our World Series," she explained.
"If you are a serious adult amateur rider who truly wants to get the most out of yourself and your horse, this is the ultimate test. You may win or you may not, but the results are not the true payoff of this adventure. The payoff is finding something in you, and your horse, that you would have never imagined was there: the drive, the spirit, and the confidence to compete against the best riders from all over the country." Read more about Herzing and Gentleman as well as other competitors from across the country in USDF's new series titled "Why I Love the Finals", featured exclusively on https://yourdressage.org/.
Many other riders share Herzing's enthusiasm, reflected in what has been described as a "trickledown effect" from the Finals to the Regional Championships and other licensed dressage competitions. In 2018, Regional Championships saw as much as a 23% increase in entries from the prior year, and that growth seems to be on track to once again be reflected in this year's events. With entries now closed for five of the 2019 Regional Championships (2, 5, 6, 7, and 8), four of those competitions show an increase in entry numbers, with three of those regions (5, 7 and 8) reporting an impressive double-digit rise in Regional Championship participation.
Anticipation will only continue to build as all nine Regional Championships are scheduled across the country over the next five weeks, kicking off with Region 2 on September 11-15 in Michigan. The following week from September 19-22 will be a whirlwind of intense competition as Regions 5, 6, 7 and 8 all occur at the same time, followed by Region 4 on September 26-29. The 2019 Regional Championship season then wraps up with Regions 1 and 9 on October 3-6, and finally Region 3 on October 11-13 in Georgia. Now with more than $240,000 to be awarded at the Regional Championships, prize money will be divided evenly among the nine regions and 35 divisions that are offered at each, allowing every region to present competitors with over $27,500 in prize money and awards.
Despite some "bumps in the road" and minor surgery for Gentleman over the summer, Herzing still plans to head to North Carolina for the upcoming Region 1 Championships. "We haven't missed the Regional Championships in nine years, and since we are already qualified again this year so we do plan to go to Regionals and hopefully be back in Kentucky," Herzing explained. "My horse and I have conquered many obstacles in our long time together and I'm not counting him out. Regionals and the Finals will always be on my calendar!"
The Great American Insurance Group/USDF Regional Dressage Championships are about to get underway – don't miss your chance to qualify for the US Dressage Finals!
As a reminder for all competitors, a horse/rider combination must declare their intention to participate in the US Dressage Finals by completing the Declaration of Intent form by midnight on the day prior to the first day of their Regional Championship competition (including any open class day before the start of championship classes). There is no fee to declare, but horse/rider combinations must declare at the level(s) and eligible division(s) they intend to compete in at the US Dressage Finals. Submit your declaration today at www.usdressagefinals.com, and then remember to submit your nomination (the next step of the qualifying process) immediately following your Regional Championship show!
The US Dressage Finals presented by Adequan® is a unique national head-to-head competition which offers a wealth of championship titles and over $100,000 in prize money, all while showcasing adult amateur and open riders from across the country in Training Level to Grand Prix. This year's event will be held November 7-10 at the Kentucky Horse Park in Lexington, Ky. To learn more about the US Dressage Finals presented by Adequan®, download competition information, declare and nominate for the Finals, and sign up to receive news and updates, visit the official event website at www.usdressagefinals.com.
Founded in 1973, the United States Dressage Federation is a nonprofit membership organization dedicated to education, recognition of achievement, and promotion of dressage. For more information about USDF membership or programs, visit www.usdf.org, email usdressage@usdf.org, or call (859) 971-2277.